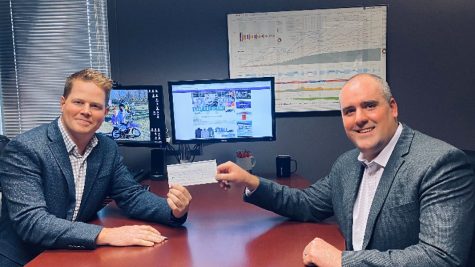 Submitted by: Community Foundation of Swan Valley
Pictured above: Special thanks to Kramer Coulthart and Cook and Cooke Financial who started things off with a $1,000 donation to CFSV.
During the week of November 15 – 21, 2021, the Community of Foundation of Swan Valley, was excited to promote the Endow Manitoba Giving Challenge Week. Annually this important province wide event raises millions of dollars in Manitoba each year. The Winnipeg Foundation and the Manitoba government offer stretch funding turning each $5 gift made to the Community Foundation of Swan Valley into $7 during the Endow Manitoba Giving Challenge (maximum of $4,000 per Foundation).
In addition, CFSV accepted another challenge from our sister foundation in Dauphin. Pitting the Swan Valley Stampeders against the Dauphin Kings, both communities worked hard to "out give" each other during the day of the home teams game on Nov 19th and 20th. The Stampeders, game night sponsor Tim Horton's and the Swan Valley community came together to raise over $11,000 on Friday!
The Community of Dauphin rallied around the Dauphin Kings on Saturday and were the winners of the challenge. However, even though Dauphin successfully won the game, Swan Valley took the series by raising an incredible $103,920.21. After adding the maximum matching of $4,000, the total for the week is $107,920.21 for the week.
THANK YOU SWAN VALLEY!!