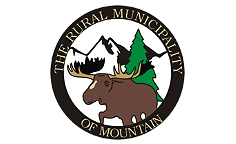 Minutes of the Regular Meeting of Council of the Rural Municipality of Mountain held Tuesday, September 7th, 2021 at the RM o Mountain Council Chambers in Birch River, MB.
Members Present:
Reeve: Robert Hanson
Councillors: Wilmer Malcolm, Stephen Nadolney, Nestor Rizok, and Connie Forbes.
Councillor Wyatt and Pedersen were absent with notice.
CAO Paige Wozny was present and acted as secretary.
Finance Officer Kim Paterson was present.
1. Call to Order
The meeting was called to order at 10:00 a.m. by Reeve Robert Hanson, quorum being present.
2. Adoption of Agenda
Resolution No: 2021/293
Moved By: Wilmer Malcolm
Seconded By: Connie Forbes
BE IT RESOLVED THAT the Agenda for the September 7, 2021 Regular Meeting of Council be adopted as presented.
For: 5 Against:
CARRIED UNANIMOUSLY
3. Matters Arising from Minutes
Resolution No: 2021/294
Moved By: Nestor Rizok
Seconded By: Stephen Nadolney
BE IT RESOLVED THAT the Minutes of the regular meeting of Council held August 25th, 2021 be adopted as presented, all requirements having been complied with.
For: 5 Against:
CARRIED UNANIMOUSLY
4. By-Laws & Policies
4.1 Animal Control By-Law
Resolution No: 2021/295
Moved By: Connie Forbes
Seconded By: Stephen Nadolney
BE IT RESOLVED THAT By-Law No. 06/21, being a By-Law to provide Animal Control within the Rural Municipality of Mountain, be given second reading.
For: 5 Against:
CARRIED UNANIMOUSLY
4.2 Employee Manual: General Holidays
Resolution No: 2021/296
Moved By: Wilmer Malcolm
Seconded By: Stephen Nadolney
BE IT RESOLVED THAT Council of the Rural Municipality of Mountain hereby amend the Employee Handbook to state:
'All Provincial (and Federal) holidays shall be observed by Municipal Staff as a general holiday without deduction in pay.'
For: 5 Against:
CARRIED UNANIMOUSLY
4.3 Property Maintenance Policy: Review Draft with LUD's
5. Financial
5.1 Ward Financial Statements: Review
5.2 Monthly Financial Statement: August
Resolution No: 2021/297
Moved By: Wilmer Malcolm
Seconded By: Connie Forbes
BE IT RESOLVED THAT Council of the Rural Municipality of Mountain hereby accept and approve the Unaudited Financial Statement for the month ending August 31st, 2021 as presented.
For: 5 Against:
CARRIED UNANIMOUSLY
5.3 Overdue Utility Accounts
Resolution No: 2021/298
Moved By: Stephen Nadolney
Seconded By: Connie Forbes
BE IT RESOLVED THAT the following unpaid utility accounts be added to the real property tax account of each account holder:
Utility Account Number Amount
10016.002 $229.50
10021.000 $229.50
10028.000 $229.50
10030.000 $229.50
10035.000 $229.50
20011.500 $189.31
20017.000 $189.31
20038.000 $85.04
20057.000 $106.70
20074.000 $187.08
20086.000 $189.31
20092.601 $150.03
20092.701 $109.53
20406.001 $66.74
20701.003 $210.78
20705.000 $189.31
20805.102 $189.31
20809.000 $77.85
For: 5 Against:
CARRIED UNANIMOUSLY
5.4 2021 Budgeted Reserve Transfers
Resolution No: 2021/299
Moved By: Nestor Rizok
Seconded By: Wilmer Malcolm
BE IT RESOLVED THAT Council of the Rural Municipality of Mountain hereby authorize the following transfer to applicable reserve funds, in accordance with the 2021 approved financial plan:
Reserve Fund Funds to be Transferred
General Reserve $50,000.00
Gas Tax Reserve $107,658.00
Fire-Fighting Reserve $15,000.00
Bridge Reserve $93,199.66
CDI Reserve $102,439.00
Emergency Measures Reserve $5,000.00
Road Maintenance Reserve $75,000.00
Birch River Utility Reserve Fund $10,000.00
Mafeking Utility Reserve Fund $3,330.00
AND THAT the Reeve and CAO be authorized to sign on behalf of the Municipality.
For: 5 Against:
CARRIED UNANIMOUSLY
5.5 LUD of Birch River Tractor
Resolution No: 2021/300
Moved By: Stephen Nadolney
Seconded By: Wilmer Malcolm
BE IT RESOLVED THAT Council of the Rural Municipality of Mountain hereby approve the transfer of $11,500.00 from the RM of Mountain General Chequing Account to the LUD of Birch River Reserve Fund.
For: 5 Against:
CARRIED UNANIMOUSLY
5.6 Expense Mafeking Creek Disaster 2020
Resolution No: 2021/301
Moved By: Wilmer Malcolm
Seconded By: Nestor Rizok
WHEREAS estimated DFA deductible for the 2020 Mafeking Creek Disaster Event would be $7,954.00;
THEREFORE BE IT RESOLVED THAT Council of the Rural Municipality of Mountain hereby expense the 2020 Mafeking Creek Disaster Event deductible to 2021 Emergency Planning.
For: 5 Against:
CARRIED UNANIMOUSLY
5.7 Taxes Added
Resolution No: 2021/302
Moved By: Nestor Rizok
Seconded By: Connie Forbes
BE IT RESOLVED THAT Council of the Rural Municipality of Mountain hereby add the following taxes to the applicable Tax Roll in accordance with recommendations from Manitoba Assessment Services:
Tax Year Roll Number Added Cancelled
2021 210400.000 $70.48 For: 5 Against:
CARRIED UNANIMOUSLY
5.8 Accounts Payable
Resolution No: 2021/303
Moved By: Nestor Rizok
Seconded By: Wilmer Malcolm
BE IT RESOLVED THAT Cheque Nos.20211004 to 20211067 be approved for payment in the amount of $48,322.59 including Council Indemnities in the amount of $5,742.70 as per By-Law 03/16 and Direct Deposit Payroll in the amount of $11,962.02 as attached hereto as Schedule 'A';
AND FURTHER IT BE RESOLVED THAT the direct payment amount of $10,529.65 for Receiver General for August 2021 be hereby approved.
For: 5 Against:
CARRIED UNANIMOUSLY
6. Ward Reports & Work Orders
Resolution No: 2021/304
Moved By: Wilmer Malcolm
Seconded By: Stephen Nadolney
BE IT RESOLVED THAT Council of the Rural Municipality of Mountain hereby approve work orders #64/2021 to #68/2021 attached hereto.
For: 5 Against:
CARRIED UNANIMOUSLY
7. Delegations/Petitions
8. Meeting Attendance and Reports
8.1 Municipal Office: Extended Education
Resolution No: 2021/305
Moved By: Connie Forbes
Seconded By: Nestor Rizok
BE IT RESOLVED THAT Council of the Rural Municipality of Mountain hereby approve and authorize funding for the application of the CAO to the NACLAA I Local Authority Administration Program and subsequent courses;
AND THAT expenses be allowed for same.
For: 5 Against:
CARRIED UNANIMOUSLY
9. General Business
9.1 Speed Limit on PTH #10 In Cowan
Resolution No: 2021/306
Moved By: Wilmer Malcolm
Seconded By: Stephen Nadolney
WHEREAS the current south exit of the community of Cowan has a speed limit set at 80kph;
AND WHEREAS there have been safety concerns within the community;
THEREFORE BE IT RESOLVED THAT Council of the Rural Municipality of Mountain hereby request Manitoba Infrastructure to reduce the speed limit of 50kph to include the entire community of Cowan as set for in Schedule 'A' attached hereto.
For: 5 Against:
CARRIED UNANIMOUSLY
9.2 RFQ: Screw Pilings, Birch River
Resolution No: 2021/307
Moved By: Connie Forbes
Seconded By: Nestor Rizok
BE IT RESOLVED THAT Council of the Rural Municipality of Mountain hereby accept the RFQ from Peter Vandenbogerd for surplus pilings located in Birch River in the amount of $ 1,627.00.
For: 5 Against:
CARRIED UNANIMOUSLY
9.3 Engage MB – Routes – Trades and Commerce: Review Concerns
10. Communications
11. Adjournment
Resolution No: 2021/308
Moved By: Stephen Nadolney
Seconded By: Connie Forbes
BE IT RESOLVED THAT the Regular Meeting of Council of the Rural Municipality of Mountain be adjourned to meet again on September 21st, 2021.
Meeting adjourned at 10:45 a.m.
For: 5 Against:
CARRIED UNANIMOUSLY