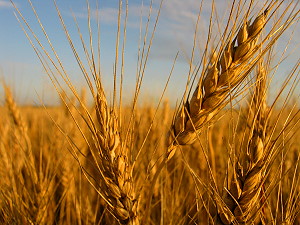 Northwest Region Crop Report Prepared by: Manitoba Agriculture
August 17, 2021 |
Northwest Region
Precipitation and heavy dew in the mornings made for a slower week of harvest progress across the Northwest region. Accumulated precipitation amounts were highest in the Roblin/Inglis and Fork River areas with 42 mm. Overnight temperatures later in the week dipped down between 1 to 2°C in some parts of the region, with Drifting River station reading 0.8°C. Recent precipitation has helped surface soil moisture; however, the subsoil moisture and water resources remain depleted.
Field Pea harvest is about 96% complete, with a few outstanding fields that were previously not ready for harvest.
With limited harvest over the past week due to wet weather, spring wheat is about 40 to 45% harvested across the region. Average yields for the region have been 40 to 60 bu/ac with better fields averaging 70-80 bu/acre. Yields in The Pas averaged 80 bu/acre.
Canola continues in variable staging and condition. Most of the canola is podded and ripening. Canola swathing and desiccation continues as stages are reached and conditions allow. Little to no canola has been harvested as of yet.
Soybeans across the region are in the R5 to R6 stage, with more advanced staging to the south and east part of the region.
Approximately 60% of the crop is in good condition while the remainder would be in fair condition. Fababeans and flax remain standing and continue to ripen.
Although recent rains have improved hay and pasture conditions, producers in the region will still be experiencing feed shortages. Securing additional feed has been challenging with low available supplies and higher prices. As weather conditions allow, producers are baling straw and harvesting the later seeded greenfeed. Cattle are starting to move home from community pastures. Sufficient livestock water supply remains a concern.