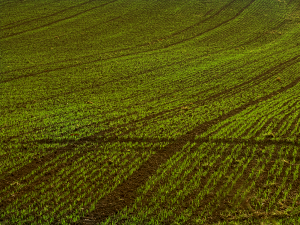 Northwest Region Crop Report Prepared by: Manitoba Agriculture
June 22, 2021 |
Northwest Region
There were scattered isolated showers through the Northwest region last week. With the exception of the Grandview area, where 10mm fell, there were no significant accumulations. Daytime temperatures hit 30○C. Nighttime temperatures were cool and dropped to single digits. Strong winds continued to be an issue through the week, causing stress and damage to crops, blowing seed and fertilizer in reseeded crops and posing challenges to pesticide applications. Some yellowing is noticeable in wheat fields where high precipitation amounts fell a week ago. Soil moisture conditions have improved somewhat although dry conditions are still a concern.
Spring cereals across the region are moving in to the stem elongation stage, leafing out and the rows are closing. Cereals are generally, in good to excellent condition as they have been better able to withstand the challenging spring conditions. There are some wheat fields in the Dauphin area yellowing from excess moisture due to high rainfall amounts the previous week.
Winter wheat and fall rye are heading out in the Roblin area. Field peas are continuing in the vegetative growth, with some scattered flowering. Peas are, overall, in good condition.
Canola across the region is in various stages and generally is in poor to good condition as it is showing the effects of insect feeding, dry conditions, frost and wind. Most of the canola is in the rosette stage except where reseeded or due to late emergence because of dry conditions. Flea beetles and cutworms continue to be a problem, with reseeding and multiple insecticide applications taking place.
Soybeans in the region are in the vegetative stage. The recent moisture and warm temperatures has pushed growth along nicely.
Herbicide applications continue as stages are reached and conditions allow. The continuous strong winds and intermittent showers across the region have made spraying a challenge.
Pheromone-baited traps for diamondback moth and Bertha armyworm monitoring continue across the region. There are some diamondback moths showing up in traps with the highest cumulative trap counts around The Pas and Bowsman. Bertha armyworm moth counts remain low for the start of the trapping period. Flea beetles continue to be an issue in canola; windy conditions have moved their feeding down to the canola stems. Feeding damage resulted in reseeding activity throughout the region.
Pasture production would benefit from additional moisture and heat. Cooler nighttime temperatures the last few nights has stalled growth. Hay fields are advancing with grasses heading out and newer, fertilized alfalfa stands in the bud stage. Water supplies remain low on pasture for this time of year and some producers have cleaned out and deepened dugouts. Grasshoppers have been observed throughout the area.