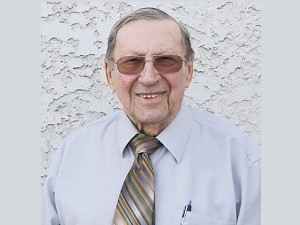 Dave Theunissen has been selected as a Honour 150 Honouree. Honour 150, presented by Canada Life, recognizes 150 outstanding people from across the province.
Dave Theunissen has been an instrumental part in the growth of Swan River Valley for over 65 years.
Dave Theunissen's Honour 150 Profile was written by
Red River College student: Emily Chandler
When there is a knock at your door in the Swan River Valley, there's a good chance it's Dave Theunissen.
Theunissen, 89, joined the Swan Valley Rotary Club (SVRC) in 1964. The SVRC is responsible for initiating and organizing many community projects for the town including the Legion Park Pathways, Rotary Soccer fields, and the Swan Valley Rotary Radio Auction.
"It's such a privilege to live in a place like this. I try to give back to the community as best I can, whenever I can," Theunissen says.
Theunissen is well-known for spearheading projects when there is a need in his community.
His most recent volunteering contribution went towards the new building for the Swan Valley Animal Protection League where he once was the treasurer. Theunissen helped raise money and find a home for the new shelter.
"It has always been a complete community and I try to give back as best I can, whenever I can," Theunissen says.
This past February, a street was named after Theunissen in honour of his contributions to the community. The street intersects with Richard Walker Way, named after one of Theunissen's closest friends.
"It was very moving for me to see my name on the street sign above his name," Theunissen says, "I was honoured to be reunited with him again."