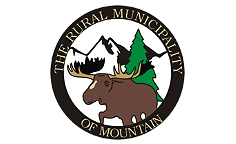 Minutes of the Regular Meeting of Council of the Rural Municipality of Mountain held Wednesday, September 9th, 2020 at the Birch River Legion Hall in Birch River, MB.
Members Present:
Reeve: Robert Hanson
Councillors: Wilmer Malcolm, Steve Nadolney, Nestor Rizok, Connie Forbes, Arnie Pedersen and Brad Wyatt.
CAO Paige Larocque was present and acted as secretary.
Finance Officer Kim Paterson was also present.
1. Call to Order
The meeting was called to order at 10:00 a.m. by Reeve Robert Hanson, quorum being present.
2. Adoption of Agenda
Resolution No: 2020/338
Moved By: Stephen Nadolney
Seconded By: Wilmer Malcolm
BE IT RESOLVED THAT the Agenda for the September 9th, 2020 Regular Meeting of Council be adopted as presented.
For: 7 Against:
CARRIED UNANIMOUSLY
3. Matters Arising from Minutes
Resolution No: 2020/339
Moved By: Nestor Rizok
Seconded By: Connie Forbes
BE IT RESOLVED THAT the Minutes of the Regular Meeting of Council held August 26th, 2020 be adopted as presented, all requirements having been complied with.
For: 7 Against:
CARRIED UNANIMOUSLY
4. By-Laws & Policies
4.1 Council Members Code of Conduct: Review Minimum Requirements
4.2 Statement of Assets & Interests: Due November 1 Annually
4.3 Tax Discount: Review
5. Financial
5.1 Financial Statements
Resolution No: 2020/340
Moved By: Stephen Nadolney
Sconded By: Nestor Rizok
BE IT RESOLVED THAT Council of the Rural Municipality of Mountain hereby accept and approve the Financial Statement for August 30th, 2020, as presented.
For: 7 Against:
CARRIED UNANIMOUSLY
5.2 Ward Budgets/Road Maintenance
Resolution No: 2020/341
Moved By: Wilmer Malcolm
Seconded By: Stephen Nadolney
BE IT RESOLVED THAT Council of the Rural Municipality of Mountain hereby cancel Special Service Proposals No. 01/2020 and 02/2020.
For: 6 Against: 1
CARRIED
5.3 Accounts Receivable
Resolution No: 2020/342
Moved By: Stephen Nadolney
Seconded By: Connie Forbes
BE IT RESOLVED THAT the following unpaid accounts receivable accounts be added to the real property tax account of each account holder:
Roll # 300733.000 $20.76
AND THAT Invoice Number 28/20 in the amount of $259.49 be written off as uncollectable.
For: 7 Against:
CARRIED UNANIMOUSLY
5.4 IMCD Beavers: Review of Remaining Tags
5.5 Taxes Added
Resolution No: 2020/343
Moved By: Wilmer Malcolm
Seconded By: Connie Forbes
BE IT RESOLVED THAT Council of the Rural Municipality of Mountain hereby add the following taxes to the applicable Tax Roll as per Schedule 'A' attached hereto.
For: 7 Against:
CARRIED UNANIMOUSLY
5.6 Accounts Payable
Resolution No: 2020/344
Moved By: Arnie Pedersen
Seconded By: Nestor Rizok
BE IT RESOLVED THAT Cheque Nos.20200980 to 20201035 be approved for payment in the amount of $109,854.56, including Council Indemnities in the amount of $5,828.28 as per By-Law 03/16 and Direct Deposit Payroll in the amount of $5,212.29 as attached hereto as Schedule 'A';
AND FURTHER IT BE RESOLVED THAT the direct payment amount of $7,975.20 for Receiver General for August 2020 be hereby approved.
For: 7 Against:
CARRIED UNANIMOUSLY
6. Ward Reports & Work Orders
Resolution No: 2020/345
Moved By: Wilmer Malcolm
Seconded By: Brad Wyatt
BE IT RESOLVED THAT Council of the Rural Municipality of Mountain hereby approve work orders #108/2020 to #122/2020 attached hereto.
For: 7 Against:
CARRIED UNANIMOUSLY
7. Delegations/Petitions
8. Meeting Attendance and Reports
8.1 G5 Meeting October – Cancelled re: COVID Restrictions
8.2 October 14 – Board of Revision: Review Procedures
9. General Business
9.1 FCM Asset Management Grant: Reivew
9.2 Mafeking UV Light Installation
Resolution No: 2020/346
Moved By: Connie Forbes
Seconded By: Arnie Pedersen
BE IT RESOLVED THAT Council of the Rural Municipality of Mountain hereby request the technical and financial assistance of the Manitoba Water Services Board for the Mafeking UV Light project;
AND THAT the Reeve and CAO be authorized to sign on behalf of the municipality.
For: 7 Against:
CARRIED UNANIMOUSLY
9.3 Waste Site Inspections: Review
9.4 Mafeking Burn Site: Open Hours
Resolution No: 2020/347
Moved By: Brad Wyatt
Seconded By: Arnie Pedersen
BE IT RESOLVED THAT Council of the Rural Municipality of Mountain hereby adjust the Mafeking Waste Site Hours as per Schedule 'A' attached hereto in order to accommodate attendant time at the Mafeking Burn Site.
For: 7 Against:
CARRIED UNANIMOUSLY
9.5 RM of Mountain Waste & Recycling Programs
Resolution No: 2020/348
Moved By: Wilmer Malcolm
Seconded By: Stephen Nadolney
BE IT RESOLVED THAT Council of the Rural Municipality of Mountain hereby apply to Manitoba Sustainable Development for Transfer Station Permits for both Cowan and Pine River Waste Sites as per Schedule 'A' attached hereto.
AND THAT the CAO be authorized to sign on behalf of the municipality.
For: 7 Against:
CARRIED UNANIMOUSLY
9.6 Mountain South Waste Sites: Closure Plans
9.7 WSFN Birch River: Review Survey
9.8 Subdivision: SW 9-42-25W
Resolution No: 2020/349
Moved By: Connie Forbes
Seconded By: Arnie Pedersen
BE IT RESOLVED THAT Council of the Rural Municipality of Mountain hereby approve Subdivision No. 4617-20-7595 in the SW of 9-42-25WPM [Schullman];
With the following conditions:
Overdue taxes, if any, are required to be paid as a condition of final approval;
For: 7 Against:
CARRIED UNANIMOUSLY
9.9 Request to Lease Lands: Advertise
9.10 Land Purchase Request
TABLED
9.11 RFT: Mafeking Tanker
Resolution No: 2020/350
Moved By: Stephen Nadolney
Seconded By: Wilmer Malcolm
BE IT RESOLVED THAT Council of the Rural Municipality of Mountain hereby accept the tender for surplus assets as advertised by the RM of Mountain and award the bid as follows:
Sheila Medwid $1,500.00
For: 7 Against:
CARRIED UNANIMOUSLY
9.12 RFT: Schulte Mower
TABLED
9.13 Pine River Public Works Position: Review
10. Communications
10.1 LGCA Consultation: Review
10.2 LUD of Mafeking Minutes: Review
10.3 Mafeking Cemetery Committee: LUD Donation
Resolution No: 2020/351
Moved By: Wilmer Malcolm
Seconded By: Connie Forbes
BE IT RESOLVED THAT the Council of the Rural Municipality of Mountain hereby approve and authorize the donation from the LUD of Mafeking to the Mafeking Cemetery Committee for the Cemetery Expansion.
For: 5 Against: 2
CARRIED
10.4 LUD of Birch River Minutes: Review
11. Adjournment
Resolution No: 2020/352
Moved By: Wilmer Malcolm
Seconded By: Arnie Pedersen
BE IT RESOLVED THAT the Regular Meeting of Council of the Rural Municipality of Mountain be adjourned to meet again on September 23rd, 2020.
Meeting adjourned at 1:35 p.m.
For: 7 Against:
CARRIED UNANIMOUSLY