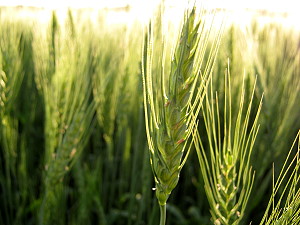 Northwest Region Crop Report Prepared by: Manitoba Agriculture
August 11, 2020 |
Northwest Region
High temperatures throughout the week continued to advance the crop in the Northwest region. The weekend brought cooler temperatures and scattered showers along with high winds and thunderstorms. Soil moisture is adequate for the most part, although there are some very dry areas throughout the region that missed the rain showers.
Winter wheat and fall rye are in the hard dough stage and are very close to maturity however, it is still too early for desiccation. Spring wheat and cereals are mostly in the soft dough stage with some earlier seeded fields in the firm dough stage. Earlier seeded barley is starting to turn colour.
The canola crop is podding up with the latest seeded canola still flowering. Staginess in some canola fields remains evident. The high temperatures have resulted in sunscald on podded canola. Soybeans are at about R4 to R5 stage around Swan River and towards the R5 to R6 stage around the Roblin area. Field peas are podded with about 10% of the crop ripe. Some desiccation of field peas is taking place along with an initial start to harvest. The flax crop is through the flowering stage and into the boll development stage with bolls still light tan. Corn is tasseling. Fungicide applications are complete across the region.
Producers are encouraged to continue monitoring for bertha armyworms as the moth-monitoring program had traps in the "uncertain" range. Grasshoppers seem to be abundant in the Parkland region.
As first cut hay harvest is wrapping up, yields are being reported as variable with older stands yielding well below normal and newer, fertilized stands yielding closer to normal. Cereal silage and greenfeed harvest is underway with early indications of close to average yields on early seeded fields. Later seeded fields that will be harvested over the next two weeks are expected to yield better as they suffered less from the dry conditions. Pastures are in fair to good condition for this time of year and would benefit from additional moisture. Grasshoppers continue to be a significant problem. Water levels for livestock are rated from low to sufficient.