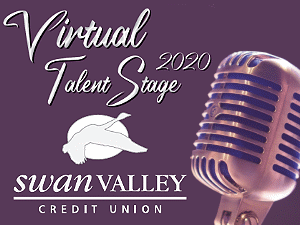 Submitted by:
Lynda Parsons |
Swan Valley Credit Union
Virtual Talent Stage
Registration deadline
August 17, 2020
Swan Valley Credit Union is excited to announce that we will be hosting a Virtual Talent Stage!
If you think you have what it takes to grace our digital stage contact Lynda Parsons, Marketing Manager at lynda.parsons@svcu.mb.ca for details or to register. Registration deadline is August 17th, 2020. $2,000 in cash prizes; top 3 finalists $500, Grand Finale Winner $500.
Please note: Eligible contestants must be a minimum of 11 years old and reside within 250km of Swan River to participate. Song selection is open to all genres of music.