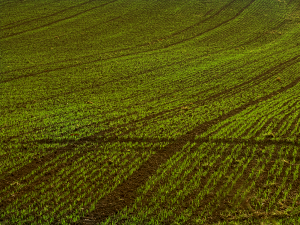 Northwest Region Crop Report Prepared by: Manitoba Agriculture
June 16, 2020 |
Northwest Region
Warm weather conditions this week reached highs of 25 to 32○C. However, there were areas of the region where temperatures dropped overnight to single digits. Minitonas received 13mm of precipitation, The Pas received upwards of 30mm; other parts of the region received scattered generalized showers. Strong winds were also widespread throughout the week in the region causing crop damage and challenges for timely spray operations. Soil moisture conditions have improved to 85% adequate and 15% short; however, soils at The Pas are saturated.
Seeding is generally complete in the region with producers waiting for soils to dry to allow for completion at The Pas. Winter wheat and fall rye are heading/flowering and are in good to excellent condition. Spring wheat and cereal seeding is complete in the region with 100% in the seedling/tillering growth stage. Spring cereals are generally in good to excellent condition although weed control has been a challenge due to windy conditions. Canola seeding is also complete for the region. However reseeding in Dauphin, Swan River and Roblin areas has occurred due to wind and dry soil conditions causing issues with emergence and timely pesticide applications as well as continued pressure from flea beetles and cutworms. Reseeding has resulted in variable canola staging and condition. The growth stage of the canola crop is ranges from 25% emerging, 65% in the seedling stage and 15% of the crop in the rosette stage. The condition of the canola crop is also quite variable with 20% of the canola fields rated as good to excellent, 60% fair and 20% in poor condition. Soybean seeding is complete. Crop condition is average to very good; soybean condition is better in the southern part of the region. Field peas are seeded and are in the vegetative stage. Condition of the field pea crop is 95% good to fair in the Swan River area. Flax is 100% in the ground and rated as average to excellent condition. Canola, field peas and soybeans are starting to recover from extreme wind events earlier this spring, while some have been set back.
Flea beetles and cutworms continue to be a concern and have required some control as well as some reseeding. Diamondback moth monitoring continues with traps throughout the region; the highest numbers have been in a trap at The Pas. Strong winds have made pesticide applications challenging.
Most of the region received some rain over the past week, but more is needed for forage growth, particularly in the Swan River Valley where drier conditions remain. Cattle are out on pasture but growth is significantly behind normal and many pastures are in poor shape from overgrazing last season. Water supplies are currently adequate. Grasses are already going to seed and first cut hay yields will be below average due to the cool and dry spring conditions.