Swan Valley Co-op Media Release |
(JUNE 15, 2020) Swan Valley Co-op is celebrating their 80th anniversary by continuing to invest in our communities – including new funding for Legacy Projects in the Swan Valley area.
Through the legacy projects fund, Co-op is providing a total of $20,000 for the following projects.
• Concession booth replacement at Legion Park – $10,000
• Media/sound booth construction at Minitonas Arena – $7,000
• Driving range dividers and practice green stands at Swan River Golf Club – $3,000
"Thank you so much Swan Valley Co-op for the grant money! As we all know safety and fun in coaching children's sports is up there as very important and the grant money will allow the Swan River Junior Golf Club to strive for more of both. Congratulations to Swan Valley Co-op on their 80th Anniversary and how they continue to help make the Swan River Valley a great place to live and raise our kids," said Marni Zamzow, of Swan River Junior Golf Club.
"The Baseball Legacy Committee is made up of community minded volunteers that want to add value to our community and community held events. We would like to thank the Swan Valley Co-op Ltd. for their generous donation towards our baseball concession and storage facility project and wish your organization a very happy 80th Birthday." said Tracy Boychuk, of SR Baseball Legacy Committee.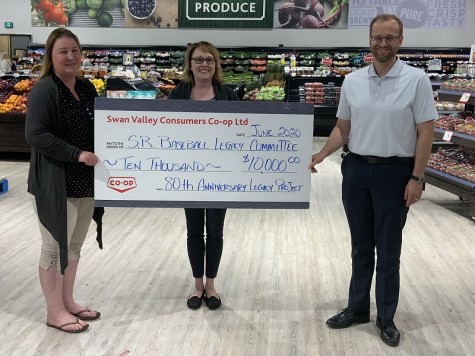 "We're grateful for the 80 years of support from our members. Being locally owned by our members and having the ability to give back to our communities are things we're proud of. The aim of these projects is to bring people together, creating places for everyone and building a lasting legacy that benefits our
communities into the future," said Colin Peters, General Manager of Swan Valley Co-op.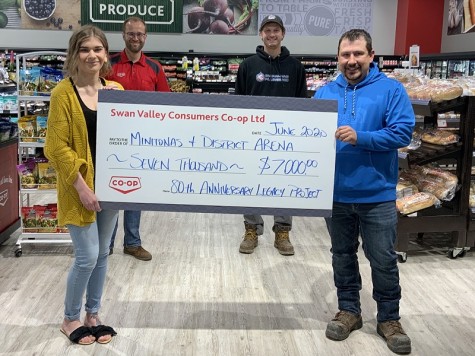 "We're happy to make these contributions to celebrate our 80th anniversary. They reflect the spirit and dedication of the people within our communities."
About Swan Valley Co-op
Swan Valley Co-op is a local co-operative that has proudly served the Swan Valley for 80 years. Today, Swan Valley Co-op serves more than 5,500 members — and many more customers — in Northwest MB, where it operates Food, Fuel and Agro locations. Since 2014, Swan Valley Co-op has returned more than $14 million to its members in cash back and equity, while contributing over $400,000 to community organizations and initiatives.
More information is available at www.swanvalleyco-op.crs