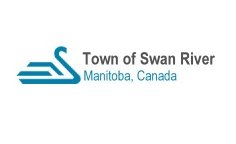 Regular Council Meeting 21/04/2020 – 07:30 PM The Council of the Town of Swan River met on Tuesday, April 21, 2020 at 7:30 pm in the Town Council Chambers with Mayor Jacobson presiding and Councillors Moriaux, Wintoniw, Whyte, Gray, Friesen and Delaurier present.
Also Present: Staff – Town Manager C. Croll, ACAO P. Henkelman, PW Director D. Poole,
Fin Director T. Gnida (via video conference),
Fire Chief D. Fedorchuk (via video conference)
Media – Star and Times Reporter J. Bergen
1 Call meeting to order
Mayor Jacobson called the meeting to order at 7:30 pm.
2 Resolution No: 2020-194
Adoption of the Agenda
Moved By: Johnny Wintoniw
Seconded By: Phylis Friesen
RESOLVED that the Agenda for the April 21, 2020 regular meeting of Council be adopted.
CARRIED
3 Resolution No: 2020-195
Confirmation of the minutes
Moved By: Jason Delaurier
Seconded By: Johnny Wintoniw
RESOLVED the minutes of the April 7, 2020 regular Council Meeting and the April 14, 2020 Committee of the Whole meeting be received and approved.
CARRIED
4 Reception of Delegations and Hearings
5 Reception of Petitions
6 Resolution No: 2020-196
Communications
Moved By: Johnny Wintoniw
Seconded By: Phylis Friesen
CARRIED
6.1
Letter from Minister Squires
RESOLVED that the letter from Minister Squires, Minister of Municipal Relations, dated April 15, 2020 be received as information.
6.2 Resolution No: 2020-197
To receive building permit applications
Moved By: David Gray
Seconded By: Johnny Wintoniw
RESOLVED that Building Permits 9/20 through 14/20 with a total estimated value of $223,000.00 be received.
CARRIED
7 Committee, Staff and Council Reports
7.1 Resolution No: 2020-198
Director of Public Works Report
Moved By: Jason Delaurier
Seconded By: Phylis Friesen
RESOLVED the Director of Public Works report be received as information.
CARRIED
7.2 Other Reports
7.2.1 Resolution No: 2020-199
March Handivan Report
Moved By: Jason Delaurier
Seconded By: Johnny Wintoniw
RESOLVED that the March 2020 Swan River Handi-Transit Van Report be received as information.
CARRIED
7.3 Council Reports
7.4 Resolution No: 2020-200
Town Manager Report
Moved By: Phylis Friesen
Seconded By: Jason Delaurier
RESOLVED that the Town Manager Report for March-April 2020 be received as information.
CARRIED
8 New Business
8.1 Resolution No: 2020-201
2020 Tax Sale date
Moved By: Jason Delaurier
Seconded By: David Gray
WHEREAS Manitoba has declared a state of emergency as a result of the Covid-19 pandemic;
AND WHEREAS the pandemic is causing financial difficulties for many businesses and individuals;
THEREFORE BE IT RESOLVED THAT proceedings to offer properties for sale at tax sale auction be placed on hold for a period of four months.
CARRIED
8.2 Resolution No: 2020-202
Utility Customers Financial Relief
Moved By: Duane Whyte
Seconded By: David Gray
RESOLVED that in accordance with Public Utilities Board Order 56/20, The Town of Swan River waive late fees on the April utility bill and the July utility bill for one month past the due date and suspend water turnoffs during the state of emergency.
CARRIED
9 Unfinished Business
9.1 Land Sale- Lots 33-42, 3rd Ave South
9.2 Budget 2020
10 Accounts
10.1 Resolution No: 2020-203
To approve accounts
Moved By: David Gray
Seconded By: David Moriaux
RESOLVED THAT the accounts as follows be hereby approved for payment: 1. General Account Cheques No. 25996 to No. 26080 for a total of $173,449.11
(Cheque No. 26072 was voided.) 2. Payroll Account Cheques No. 4650 to No. 4656 for a total of $90,566.28
CARRIED
11 By-Laws
11.1 Resolution No: 2020-204
Third Reading of Bylaw 13/2019 – Waste Collection, disposal, and recycle systems by-law
Moved By: David Moriaux
Seconded By: Jason Delaurier
RESOLVED that by-law 13/2019 being a by-law of the Town of Swan River to establish waste collection, disposal and recycling systems be read a third time and passed.
Jason Delaurier – yes
Phylis Friesen – yes
David Gray – yes
Lance Jacobson – yes
David Moriaux – yes
Duane Whyte – yes
Johnny Wintoniw – yes
CARRIED
11.2 Resolution No: 2020-205
Third Reading of Bylaw 16/2019 – By-law Enforcement
Moved By: David Gray
Seconded By: David Moriaux
RESOLVED that By-Law No.16/2019 being a By-Law of the Town of Swan River to provide for an administrative penalty scheme for parking and general by-law enforcement be read a third time and passed.
Jason Delaurier – yes
Phylis Friesen – yes
David Gray – yes
Lance Jacobson – yes
David Moriaux – yes
Duane Whyte – yes
Johnny Wintoniw – yes
CARRIED
12 Notice of Motion
13 Resolution No: 2020-206
In Camera
Moved By: Johnny Wintoniw
Seconded By: Phylis Friesen
RESOLVED that, pursuant to Section 152(3) of the Municipal Act, Council go into Committee and close the meeting to the public, Employee Relations Councillor Gray left the meeting prior to discussing this item. Property Sale Negotiations
CARRIED
14 Resolution No: 2020-207
Out of Camera
Moved By: Johnny Wintoniw
Seconded By: David Gray
RESOLVED that pursuant to Sections 152(4) of the Municipal Act this meeting be reopened to the public.
CARRIED
15 Resolution No: 2020-208
Adjournment
Moved By: David Gray
Seconded By: Duane Whyte
RESOLVED that this regular Meeting of Council now adjourn at 10:18 pm
CARRIED