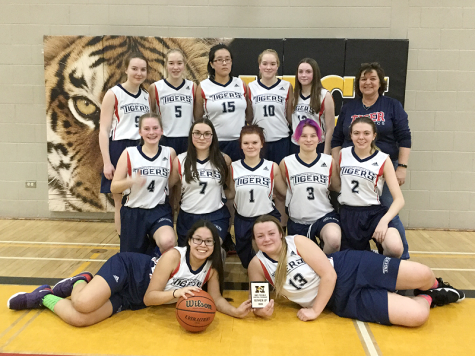 Pictured above: Back Row: Erin Klatt, Avery Blosha, Hailey Ledoux, Ady Blosha, Neva Zamzow. Coach: Lise Fraser 2nd Row: Ainzlee Stinson, Ellie Oakes, Kaylee Keefe, Aurora Dunn, Katie Smith Floor: Payton Brightnose, Chloe Formo

Submitted by: Lise Fraser |
JV girls were finalists in the Neepawa Collegiate Basketball Tournament on February 13 and 14th, 2020. The team played Virden Collegiate in their opening game, winning 50-12. The semi-final game was played on Friday night against the home team, Neepawa in front of a packed crowd. It was an exciting, high scoring game with a fast tempo. The Swan Valley Tigers held a lead throughout the game but Neepawa and their fans were determined to not give in easily, cutting the lead to only 6 points by the end of the third quarter.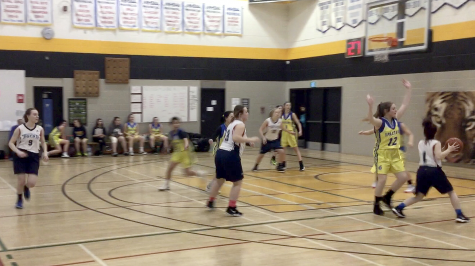 Pictured above: Kaylee Keefe drives past her defender while Chloe Formo and Ady Blosha gain inside position.
Swan Valley Tigers came out in the fourth quarter and took control of the game with their relentless press, creating many turnovers. The final score of the game was 84-56 for Swan Valley.
Swan Valley played The Pas in the Finals and it was a defensive battle throughout the game. The two teams had previously played against each other in the Swan Valley Tigers home tournament back in December. Swan Valley won a close game at that tournament and this time, The Pas returned the favour. Both teams utilized a press and a stingy defence which limited offensive opportunities.
The JV girls had a great tournament in Neepawa and are now looking forward to the Provincial Qualifier Tournament in Dauphin on February 25th.