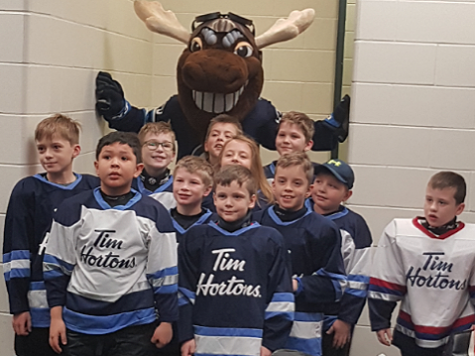 Submitted by: Treena Rooks |
Timbits Hockey, presented by Tim Hortons, features twelve timbits hockey teams and four ringette teams randomly selected to play during the intermission of a Winnipeg Jets home game. A parent on our team had entered us into the draw, and on January 8, 2020, we had received notification that the Swan Valley Novice Broncos team had been selected as a winner!!
It was to take place on February 8, 2020, when the Winnipeg Jets were to take on the Ottawa Senators. This included tickets for all the players (12 total), a parent escort, and coaches. After realizing that it was NOT a hoax, reality set in. Everyone was beyond excited. I think the parents may have been a little more so.
The team consists of Chase Eisner, Chay Williamson, Dominic Campbell, Josh Buchanan, Konnor Dixon, Landen Rooks, Madden Atkinson, Megan Mykula, Nixon Bell, Sidney Nemetchuk, Skyler Dutkewich, and Troy Brightnose
On game day we had a few grandparents, aunts, uncles, siblings, friends, and cousins follow us to the rink, everyone was so excited. Some kids of course were nervous, and some had been practicing writing their names in the event that the Jets were to ask them for an autograph.
We all met at the MTS Centre an hour prior to the game. Upon arrival, a Jets representative took us into our very own locker room. In order to get there, we were led past the ice surface. The kids grew in excitement, as they knew the Jets would be close by. The kids then were taken to the ice surface to watch the Jets warm ups. We then all took our seats to get ready for the game. We got to watch a bit of the first period, but had to leave with 15 min left to get geared up.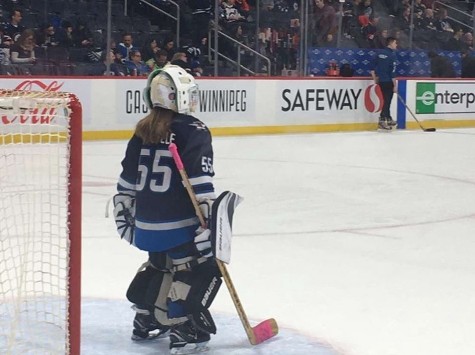 The kids then played a scrimmage against each other, 6 v 6, with a possible 15,000 in attendance watching! After their three minutes of fame, the game was left with a 1-1 tie. One of the kids was taken aside to give a interview, and was featured on the jumbo tron!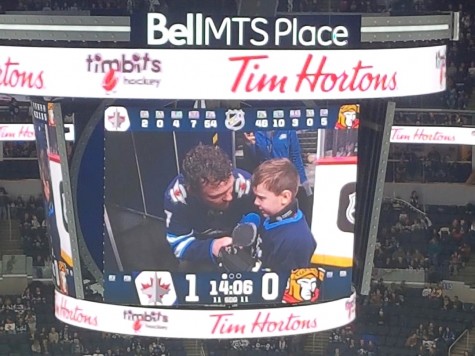 Once back in the locker room, Mickey Moose and representatives from our local Tim Hortons in Swan River came to say hi, and brought juice and Timbits for the kids.
For some of the parents/kids this was their very first NHL game. It was an experience that definitely fueled their love of the game. It was most definitely a weekend of memories made that will last a life time.