ValleyBiz Story |
Approximately 40 people attended the Provincial Pre-Budget Consultations held in Swan River on the afternoon of January 14, 2020.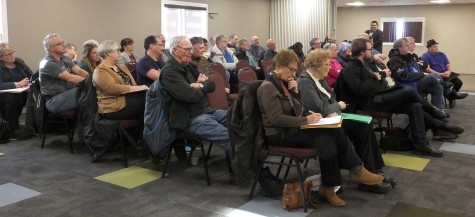 Minister Scott Fielding began with a presentation of the budget priorities for 2020, focusing on five areas committed to in the 2019 Provincial Election including:
- reducing taxes,
- $2 billion in healthcare services over the next 4 years,
- 20 new schools in the next decade,
- Manitoba Works Job Plan and
- Made in Manitoba Green Plan.
Other priorities included $10 million to step up enforcement for safer communities, $1 billion annually on strategic infrastructure and continued Support to Municipalities.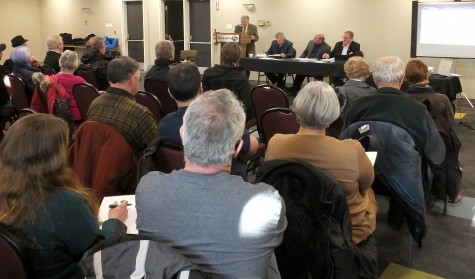 Following the budget presentation, the following local stakeholders were also heard:
Dennis Kowal requested that the Manitoba Tax legislation 3 year statute of limitations on claims for prior year tax credits be changed to be consistent with the federal timeline of up to 10 years.
Gary Wowchuk on behalf of Swan Valley School Division addressed funding models for rural and remote school divisions including geographic, demographic and staffing challenges.
Councillors David Moriaux and Duane Whyte on behalf of the Town of Swan River prioritized healthcare, crime reduction and municipal funding. Specifically, Councillor Whyte advocated for a CT scanner in Swan River, indicating the Swan Valley was prepared to contribute $1 million in funding.
Gloria Tibbits on behalf of Expanded Community Cancer Care in Russell advised that, since 2014, they have been seeking approval of the construction of a new facility for their existing Chemotherapy program. The organization has now raised overb $1.3 million to fund the project and are only seeking approval to proceed.
Ken Kirkpatrick requested coverage of glucose monitoring systems and insulin pumps for Type 1 Diabetics.
Naomi Griffith on behalf of the Duck Mountain Cottage Owners Association raised concerns regarding landfill and recycling service deficiencies in provincial parks.
Amy Shaw on behalf of the Concerned Citizens Association of North Parkland advocated for a facility for individuals struggling with mental illness and addictions.
The meeting concluded with a brief period of questions from attendees.