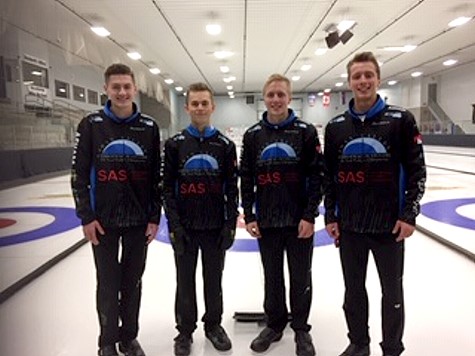 Picture above, Left to right: Ryan Wiebe, Carter Watkins, Sean Flatt, Adam Flatt, (not pictured) Coach Tom Clasper, Assistant Coach Karen Flatt
Submitted by: Louise Watkins |
As the curling season event schedule enters the mid-season benchmark, Team Ryan Wiebe continues to play with consistency in both Junior Men's and Men's Divisions. Clinching a Berth in the Spring Open Berth spiel for the Telus U21 Junior Curling Provincials opened up their fall schedule to include more Men's events than otherwise might be possible by having one goal under their wing.
Team Wiebe consists of Ryan Wiebe, Carter Watkins, Sean Flatt, Adam Flatt, and Coach Tom Clasper, Assistant Coach Karen Flatt. Carter Watkins, throwing Third stones, is the new addition to the team along with an established three players. Skip Ryan Wiebe, calling the game and the Flatt brothers, Adam and Sean playing Lead and Second respectively for approximately 8 years, there was an opportunity open for a new player to fill the Third position. Carter's team members aged out of Junior competitive play and was asked to join the team. Knowing the players through the Junior circuit and playing a similar style of game to Team Wiebe, the transition was welcomed and relatively seemless.
As of November 4, 2019 having competed in 4 Manitoba Junior Curling Tour Events(MJCT) with a balance of 4 Manitoba Curling Tour(MCT) events, Team Wiebe has qualified in all but one event. Making playoffs in the Spring Morris MJCT was their second event together and the team keeps building their chemistry, refining skills, and strengthening communication. They were Champions for the Fall Morris MJCT, St. Vital Larry Jones MJCT, and Heather Curling Club MJCT. They have accumulated 94.25 points in the four spiels to earn them 3rd spot on the tour and an important Invitation to the MJCT Tour Championship hosted by Assiniboine Curling Club the last week of November, 2019.
All four players have experience in the Men's Division, although they are relatively newcomers to the MCT veteran players. As a team, they wanted a challenge to push their abilities and further develop their skills to become stronger players and teammates. Team Wiebe missed playoffs at the Assiniboine event, however, Qualified in the remaining 3 of 4 events played to date including the Granite Fall Classic, Thistle, and Dekalb Superspiel. The Dekalb boasts a talented fleet of teams from across Canada, United States, and International teams. It was a highlight of the season playing on an arena ice surface as well as switching over to curling club ice. Team Wiebe reached the semi-finals, upsetting Team Jed Brundidge (U.S.) and Team Jason Gunnlugson and following with a close game loss to Team Mike McEwen. The team is fourth on the MCT Leader Board accumulating 32.725 points (Dekalb spiel was not included in total).
As the squad balances University schedules and a full slate of curling events, they are looking forward to staying on course to work toward their goal of becoming a Telus U21 Provincial Champions held in Dauphin, MB December 31, 2019-January 5, 2020. The team is taking a well deserved weekend off to catch up on other commitments and back on the ice in Brandon for the Sunlife Brandon Invitational. MJCT Tour Finals are coming up quickly. Possibly another Men's event and hopefully they accumulate enough MCT points to be eligible for the Tour Final in the Men's field as well.
We are grateful to our Sponsors for their financial support as it goes a long way in supporting the costs of Event entry fees, travel, practice ice rental, hotels, etc… We hope you can come out to watch some of the curling games. Check out our new jackets for on ice and follow the team on Twitter @TeamRWiebe
Big shout out to our sponsors who make our whole season possible!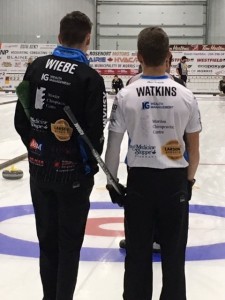 Swan Valley Chiropractic Centre
SAS Integrated Security Solutions
IG Wealth Management – Swan River
Morden Chiropractic Centre
The Medicine Shoppe Pharmacy
Larsen's Memorials
M&M Food Market
– 1765 Kenaston Blvd
Linden Ridge Eye Care
Win-Mar Freight Group
Pembina Source for Sports
The Nob – 3540 Pembina Hwy
Pembina Physiotherapy and Sports
Injury Clinic
AutoShow
BSI Insurance
Ener-C Sport
Watkins Farms
Bayer
Asham
Hardline Icepad
Runback
With our Thanks,
Team Wiebe – Ryan, Carter, Sean, Adam,
Coach Tom and Karen