ValleyBiz Story |
The Swan River Remembrance Day Ceremony on November 11, 2019 began with the march to the Cenotaph and the placing of three crosses in honour of the Air Force, Navy and Army.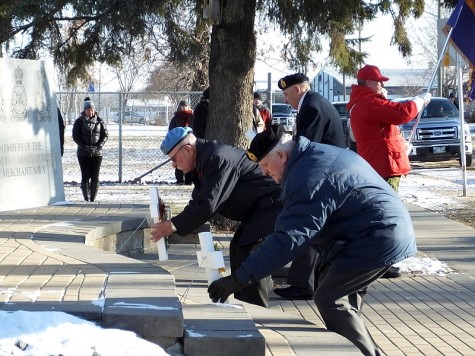 The service at the Veterans Community Hall began just before 11 am. Following the Last Post, Minute of Silence, Rouse and Act of Remembrance, wreaths were laid by various groups and individuals in memory of those who served.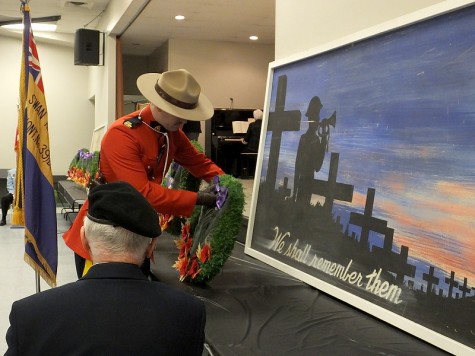 The packed hall listened intently as guest speakers shared from the heart about family, sacrifice and duty.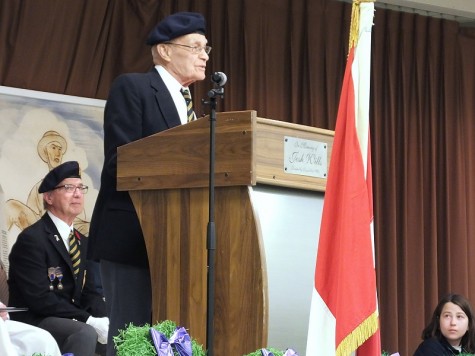 Maurice Roberge shared stories of 5 of his 12 siblings who served in the Second World War; Philip, Robert, Sydney, Colin and Adeline. "The war affected parents as much as it did the soldiers." recalled Roberge. "Every night at news time, Dad would put his ear up to the old Marconi radio and no one could talk. Mother would pray for her boys overseas, for their safety. It was hard for Mother and Dad." Roberge spoke of the joy when all of the children returned home safely. "My brothers were my heros" he said, "and in 1953 I joined up and spent 21 years serving."
Shaun Delamere spoke of the great sacrifice that Military members have made for Canada. He shared a letter written by Edward Justin Delamere who was part of the massive amphibious and airborne assault known as D-Day. Click here to read the letter. "I personally give thanks for those who gave their lives." said Delamere, "Ordinary people doing extraordinary things." He went on to say, "I have three namesakes buried or memorialized in Northern France. Ed was shot 2 days after he sent that letter and died a week later."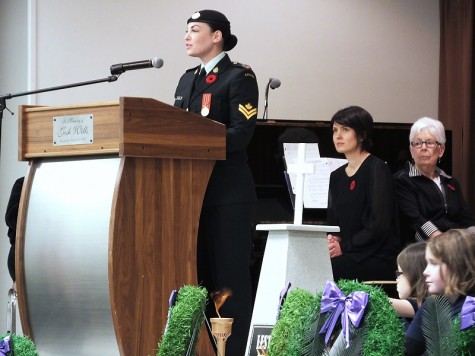 MacKenzie MacLeod shared what she believes motivates young men and women to join the Canadian Armed Forces today. "I honestly think it's exactly the same motivation as they had 30 years ago." said MacLeod, who's personal motivation came from her Grandparents – Veterans of the Second World War. "It is about heart, it's about being proud, it's about understanding that sacrifice for the greater good is critical, it's about comradery and its about the country."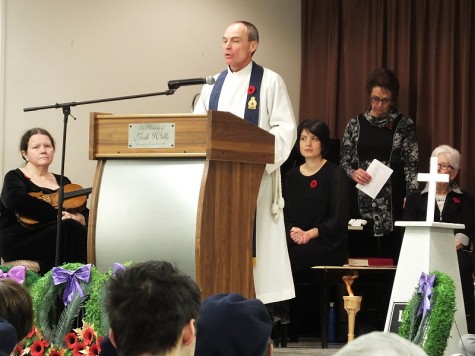 After all in attendance joined together to sing "What a Wonderful World", Chaplain Bob Lewis shared his message. He told the story of Nursing Sister Carola Josephine Douglas who cared for wounded soldiers during the First World War and died when a submarine torpedoed and sank the hospital ship on which she was serving. Carola's sister, Mrs. H.V. Morse lived in Swan River and had Carola's name memorialized on a tablet in St. James Church.
"There is a reason we look back on Remembrance Day." said Lewis, "We look back and remember Carola Douglas. We look back at those who with unselfish love and courage offered their skills during war for the sake of freedom. We look back so we can look forward with a vision of community, country and earth where all can sing, "What a Wonderful World."