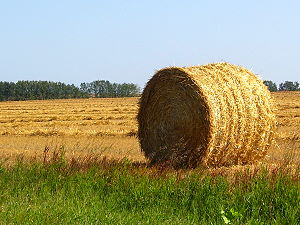 Northwest Region Crop Report Prepared by: Manitoba Agriculture
November 5, 2019 |
Northwest Region
Some limited harvest operations took place over the weekend in areas where snowmelt occurred, however most areas in the Northwest region are snow
covered at this point.
Spring wheat harvest is approximately 99% complete in all parts of the region. Canola harvest is 99% complete at Roblin, The Pas, and Swan River with Dauphin and south of Roblin estimated at 95%. Canola yields range from 50 to 70 bu/ac.
Soybean harvest at Roblin and Swan River is virtually complete; around Dauphin soybeans are 90% complete. Soybeans combined last week came off at high moisture; yields ranged from 25 to 35 bu/ac in Swan River; 33 to 41 bu/ac at Roblin. The harvest of flax is virtually complete in Swan River and Roblin.
Producers are still looking for alternatives to save their winter feed supply due to having to feed earlier than anticipated with the last snowfall. Many producers are looking at options to utilize annual regrowth, but nitrates are high to very high on feed tests coming back from the lab. Corn silage harvest continued with good progress due to favorable weather conditions. Some mould is showing up in corn crops with the recent moisture.
Some cattle remain on pastures with little to no residue, which will hamper spring growth next year. Hay production has been 30 to 50% of normal. Many producers were counting on getting a second cut but environmental conditions have prevented that from happening; the second cut has been a writeoff. Freezing temperatures have made it more conducive for field travel now and getting winter feed supplied to the winter feeding yards. The majority of cattle herds have been moved back home or to wintering sites for feeding.