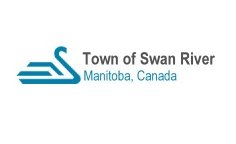 The Council of the Town of Swan River met on Tuesday, September 17th, 2019 at 7:30 pm in the Town Council Chambers with Mayor Jacobson presiding and Councillors Delaurier, Friesen, Moriaux, Whyte, and Gray present.
Councillor Wintoniw: absent with notice.
Also Present:
Staff – CAO C. Croll, Superintendent of Public Works D. Poole,
Media – Star and Times Reporter J. Bergen
1 Call meeting to order
Mayor Jacobson called the meeting to order at 7:30 pm.
2 Resolution No: 2019-284
Adoption of the Agenda
Moved By: Phylis Friesen
Seconded By: David Gray
RESOLVED that the Agenda for the September 17th 2019 regular meeting of Council be adopted.
CARRIED
3 Resolution No: 2019-285
Confirmation of the minutes
Moved By: David Moriaux
Seconded By: Duane Whyte
RESOLVED the minutes of the September 3rd Regular Council meeting and the September 11th Special Council (Strategic Planning) meeting be received and approved.
CARRIED
4 Reception of Delegations and Hearings
5 Reception of Petitions
6 Communications
7 Reports of Committees
7.1 Resolution No: 2019-286
Superintendent of Works Report
Moved By: Jason Delaurier
Seconded By: Duane Whyte
RESOLVED the Superintendent of Works report be received.
CARRIED
7.2 Other Reports
7.2.1 Resolution No: 2019-287
To receive the August Handivan report
Moved By: Phylis Friesen
Seconded By: David Moriaux
RESOLVED that the August 2019 Handivan Report be received.
CARRIED
7.3 Council Reports
7.3.1 Resolution No: 2019-288
CAO Report
Moved By: David Gray
Seconded By: Duane Whyte
RESOLVED the CAO's report be received as information.
CARRIED
8 New Business
8.1 Resolution No: 2019-289
To approve assessment alterations
Moved By: David Gray
Seconded By: David Moriaux
WHEREAS Section 326 of The Municipal Act provides that a municipality may impose supplementary taxes, and Subsections 300(6) and 300(6.1) provide that a municipality may cancel or reduce taxes, upon receipt of assessment alterations from Manitoba Assessment Services;
THEREFORE BE IT RESOLVED that the assessment alterations made by Manitoba Assessment Services on September 3rd and 10th, 2019 be made to the 2019 Property and Business Tax Rolls, with the resulting increases totaling $20,930.13 and the reductions totaling $9,130.20.
CARRIED
8.2 Resolution No: 2019-290
Motion to attend RISE meeting
Moved By: Duane Whyte
Seconded By: Jason Delaurier
RESOLVED that the Council members wishing to attend the RISE meeting in Minitonas on September 19th be granted permission and have expenses covered by the Town of Swan River,
CARRIED
9 Unfinished Business
10 Accounts
10.1 Resolution No: 2019-291
To approve accounts
Moved By: David Moriaux
Seconded By: Phylis Friesen
BE IT RESOLVED THAT the accounts as follows be hereby approved for payment:
1. General Account Cheques No. 24944 to No. 24975 for a total of $1,573,754.48.
2. Payroll Account Cheques No. 4517 to No. 4524 for a total of $132,060.10.
CARRIED
10.2
Resolution No: 2019-292
To adopt the July 2019 Financial Statements
Moved By: Jason Delaurier
Seconded By: David Moriaux
RESOLVED that the Financial Statements for the Seven Months Ending July 31st, 2019 be adopted as received.
CARRIED
11 By-Laws
11.1 Resolution No: 2019-293
Second reading of council indemnities bylaw
Moved By: Jason Delaurier
Seconded By: David Gray
RESOLVED that the Council Indemnities By-law be read a second time.
CARRIED
12 Notice of Motion
13 Resolution No: 2019-294
In Camera
Moved By: David Gray
Seconded By: David Moriaux
RESOLVED that, pursuant to Section 152(3) of the Municipal Act, Council go into Committee and close the meeting to the public.
unresolved legal matter
CARRIED
14 Resolution No: 2019-295
Out of Camera
Moved By: David Gray
Seconded By: Jason Delaurier
RESOLVED that pursuant to Sections 152(4) of the Municipal Act this meeting be reopened to the public.
CARRIED
15 Resolution No: 2019-296
Direction from In-Camera
Moved By: David Gray
Seconded By: Duane Whyte
RESOLVED that the CAO and Public Works Superintendent carry out direction given in Camera.
CARRIED
16 Resolution No: 2019-297
Motion to carry out RFP's at the Recreation Centre
Moved By: David Gray
Seconded By: Jason Delaurier
RESOLVED that the administration produce and carry out the needed RFP's to repair the issues at the Recreation Centre.
CARRIED
17 Resolution No: 2019-298
Adjournment Moved By: Phylis Friesen
Seconded By: David Gray
RESOLVED that this regular Meeting of Council now adjourn.
CARRIED