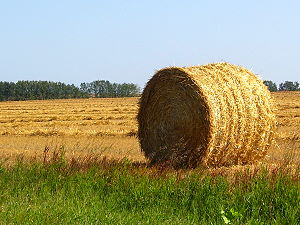 Northwest Region Crop Report Prepared by: Manitoba Agriculture
October 8, 2019 |
Northwest Region
Variable harvest conditions prevailed last week with cooler overnight temperatures (frost most mornings), intermittent showers fell, as well as some good harvest weather with temperatures hitting 20°C. The rain was mostly trace amounts with the exception of 15 to 20 mm around Ste. Rose/Laurier and Alonsa. These
rain showers made harvest progress a challenge, however producers are managing to advance the harvest with overall progress estimated at 85% complete.
Spring wheat harvest is 95% complete with some wheat crops standing and waiting for dry down while producers move on to canola fields. Spring wheat yields at
Roblin and The Pas are in the range of 60 to 90 bu/ac, around Swan River yields are 50 to 75 bu/acre. Most of the wheat harvested this week is coming off
at high moisture and is being dried and/or aerated.
The canola crop is either swathed or standing for straight combining. The canola harvest advanced with overall progress at 80% complete in the region. Harvest conditions were especially challenging this week around Swan River as snow last week knocked the crop down and high winds scattered swaths. Canola harvest at The Pas is 65% complete. Reported yields in the region are in the 40 to 60 bu/ac range with some fields around Swan River hitting 70bu/acre.
The killing frosts have ended growth of the soybean crop, however very few soybean fields are harvested; the estimate is 5% for the region. With the exception of a few fields around Dauphin area, the harvest of field peas is generally complete in the region. There is a wide range of reported yields, 40 to 80
bu/ac, yields are higher where moisture was adequate through the growing season. Combining of winter wheat and fall rye is complete. Oats are close to 100% harvested around Roblin and 75% complete at Swan River. As for flax, 100% of the crop remains standing.
Where soil moisture conditions are suitable, post harvest operations are well underway and some anhydrous applications are occurring. Baling of straw continued this week where conditions allowed and straw hauling for feed and bedding continuing as well. Still some late seeded greenfeed crops to be harvested when weather conditions are suitable. Frequent frosts have halted growth in pastures and hay fields for the year. With pasture conditions deteriorating, supplementation has started, particularly in continuously grazed pastures. Nitrates can be a concern in late seeded standing greenfeed crops and in annual
regrowth that producers had planned to use for extending grazing with the recent cold temperatures. Second cut has started on alfalfa and alfalfa/grass
fields that have sufficient regrowth to warrant cutting. Corn silage harvest continues where field conditions allow, with early yields reported between 13 to 18 tons/ac. Corn silage harvest is about 25 to 30% complete. Dugouts are now 50 to 60% full.