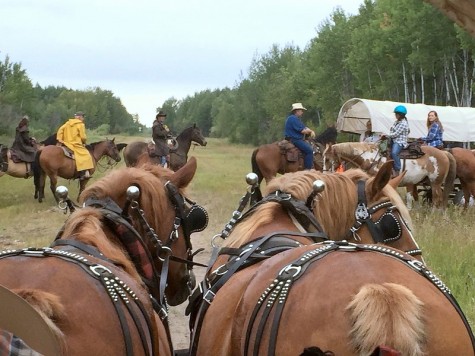 Submitted by: Rose Kovachik with pictures by Tammy Herntier and Jessica Kovachik
The annual Cowan Trail Celebration once again occurred on the fourth Saturday of August, being August 24th this year and marking it the 21st.
On Friday night, as usual, the Cowan Hall parking lot slowly filled with trailers, horses, and ATVs.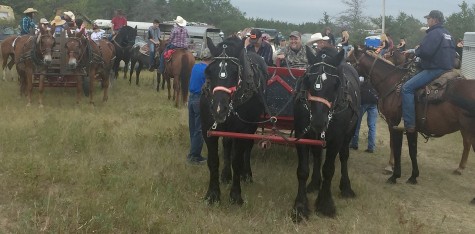 By Saturday morning, everyone was eager to get the day started with their activity of choice. By 8:30 a.m. there was a lineup instantly for breakfast which included a hardy buffet of pancakes, sausages, hashrowns, eggs, etc. and of course, coffee.
By 10:30 a.m., after horse registration, the horse ride entourage began on the journey beneath partly cloudy skies for a 13-mile ride across the Cowan bridge, first heading North and then swinging into the Cowan sand dunes.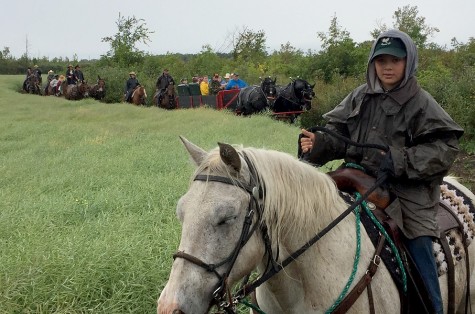 The skies may have been dreary that turned to light showers, but the hearts of riders that ranged from young to old were warm with excitement. The ones in covered wagons had a bit more of an advantage this year.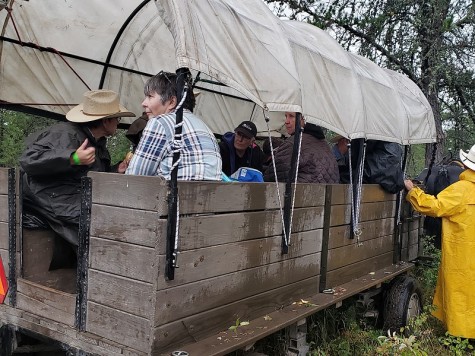 Once again there were some new faces, which is always great to see. The tour of the backwood areas, bubbling creeks and grassy meadows were a joy to the horse and riders alike. The dreary weather may have made the ride a bit chilly but it was bug free and there was no dust.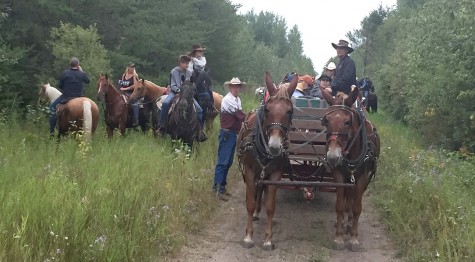 A hotdog lunch was served on the trail and provided a good opportunity for everyone to warm up with some coffee and a quick story or two before moving on to finish the trail ride in the afternoon.
We heard many compliments from the horse riders on the great trail we had and the great trail organizers like Ashley and Rita.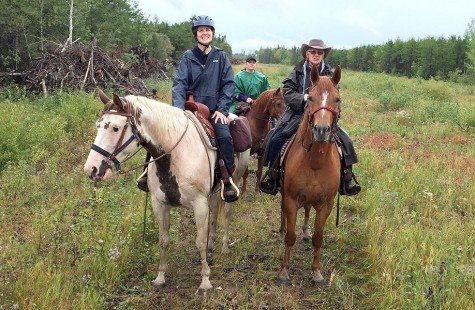 Some even enjoyed the trail so much that they ventured out again on Sunday under Ashley Beal's lead down another trail.
By 11 a.m. the ATV registration was underway and then the registrants ventured out turning their machines south and swinging around back to Cowan from the North. While enjoying the wind in their hair, they would see a little bit of every kind of terrain in Cowan country, thanks to Jesse and his crew for clearing the trail. The light rain meant most adventurers came back a little wet but they still came and participated. It is great to see that participants are very respectful of the trails which allow the trails to remain in good condition for much more enjoyment in the future.There were door prizes for both horse trail and ATV derby participants. These items were made available by many local business sponsors which are part of our successful event.
Upon return, for those that wished and any others that cared to join, there was a hearty beef supper waiting which included perogies and cabbage rolls prepared by the Cowan Community Ladies Group. The supper, which started at 5 p.m., wound up at approximately 7 p.m.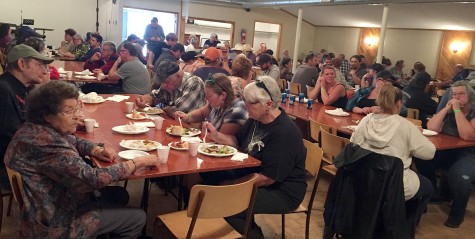 After supper, with the help from visitors, the hall was quickly transformed for the dance that began thereafter. With Pure Country (Kenny Thompson and Brittney Moore) playing, the dance floor was full most of the night.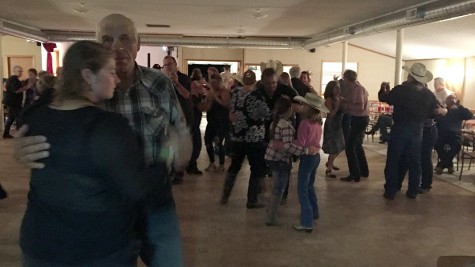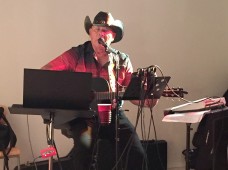 Many shouts and hollers could be heard as their dance of choice was played. A full lunch was served to allow a bit of a break which was followed by the announcements of the silent auction winners (again thanks to our many local sponsors). However, break was short and once again the dance floor was filled as Kenny and Brittney played into the early hours.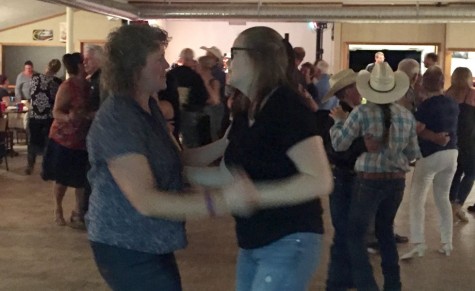 We had many compliments on the good trails, the food and the great family friendly event. We hope all that attended enjoyed their day in whatever activity they did and will be enticed to return again. It was wonderful to see some new faces with comments of their wishing to return next year.
A very big thank you to:
• the many volunteers that put ample hours into prepping, organizing, cleaning and working at this event;
• the many, many local and distant sponsors that provide all of the silent auction, door prizes, event prizes:
Ace Hardware, Bee Gee's Stationery, Buds 'n' Blossoms, Bumper to Bumper, Campbell Construction Inc., Chariot Auto, Cook & Cooke Insurance, Kyla Copeland, Darin McKay Auctions Ltd., Doak's Bulk Fuels, Extra Foods, Father's Repair, FCC, Formo Motors Ltd., Giant Tiger, Home Hardware, Kal Tire, Kolisnyk's General Store, Wade & Rose Kovachik, LP, McKay Farm & Haul Ltd., Merv's Audiotronic, Minitonas Hotel, MNP LLP – Swan River, Mountainside Unloading Ltd., Napa, Northern Specialties Ltd., Nutrien Ag Solutions, OK Tire, PKHC, Pattison Agriculture, Peavey Mart, Pizza Place, Joyce & Ross Playter, Prairie Security Services, Rangeline Ranch, Redline, Richardson Pioneer, Rick Wowchuk, MLA, Riddell's Plumbing & Heating, River Valley Powersports, Rough Country Sports,
Kathy Serafin, Spruce Products Ltd., Star City Cinema, Sterling Beverages – Wpg, Stillwater Broadcasting, Super 8 Motel, Swan River Qwik Stop, Swan River Key Chevrolet, Swan Valley Collision, Swan Valley Coop, Swan Valley Credit Union, Swan Valley Insurance Group, Tim Horton's, Timberland Inn, Valley Bearing & Auto, Valley Door Systems, Valley Meat Packers, Westwood Inn, Wolverine Septic Service, Yoga with Corinna, and
• the participants for their interest and loyalty to this event.
All of the above are a requirement to make such an event successful and available for years to come.
See ya all next year.