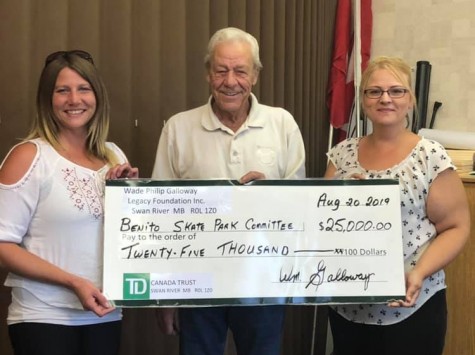 Pictured above: Bill Galloway presenting donation from Wade Philp Galloway Legacy Foundation to Skate Park Committiee representatives, Tracy Kerr and Carla Hamelin.
Submitted by: Shawna Kostiuk |
The Benito Skate Park Committee would like to thank the Wade Phillip Galloway Legacy Foundation for the generous support to our project.
The Wade Philip Galloway Legacy Foundation was created to honor Wade's memory by giving monetary donations to causes he was passionate about and supported.
As a teenager, Wade loved to skateboard and growing up on a farm, near Benito, he wished many times that there was a Skate Park for him and all children to use.
As an adult, Wade felt very strongly that a Skate Park should be built in his City for all children and young people to enjoy. He was very committed in lobbying officials with his idea and spent many, many hours of his time and money to get this accomplished. He was very community-minded and when elected as Councillor in the City of Lethbridge, he was delighted when his idea came to fruition and the Skate Park was built.
The building of a skate park in Benito reflects Wade's special interest in skateboarding and giving all children the opportunity to have fun and be active.