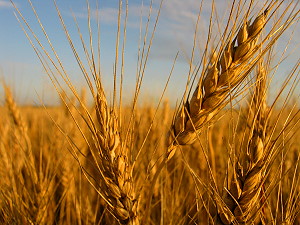 Northwest Region Crop Report Prepared by: Manitoba Agriculture
August 27, 2019 |
Northwest Region
Weather conditions were variable this past week with daytime highs of 25 to 28°C, while nighttime temperatures dipped into the low single digits in many parts of the region. The lowest temperatures recorded around Roblin and Swan River reached 1°C overnight.
There was general rainfall through the region this week, with reports of hail in the Ste. Rose area, but damage is still being assessed.
Harvesting in the region was halted due to the unsettled weather. Overall progress is difficult to estimate due to wide variability within the region; the
best estimate is less than 30% of the crop is harvested.
Field pea harvest is 80% complete with variable yields, ranging from 40 to 100 bu/ac. The yield variability is reflective of soil moisture conditions throughout the growing season.
Pre-harvest applications in spring wheat continue as staging is reached. Maturity of the spring wheat crop is very variable in the region. At The Pas, the spring wheat remains standing and needs time to fully ripen. Around Roblin, swathing is underway, in the Swan River area harvest of spring wheat has begun. Operations are further ahead in the Dauphin area with 70% of the wheat combined; completed harvest at Ste. Rose reports yields of 25 to 55 bu/ac.
Canola continues to mature throughout the region. Swathing has begun around Dauphin and continues to move west and northward toward The Pas.
Soybeans are at the R4 to R5 stage, but have been slow to fill and continued warm weather is needed for the soybean crop to reach maturity.
In the Roblin and Swan River, a few alfalfa fields remain to be harvested as first cut, quality expected to be poor. Minimal second cut harvest has occurred, with very poor yields. If adequate precipitation and warm temperatures received over the next few weeks, additional fields may be harvested after a killing frost. Greenfeed and cereal silage harvest is winding down with average yields. Pea and cereal straw and grass seed residue is being baled for feed where available.
Silage corn across the region is still in need of moisture for cob development; precipitation over the weekend was very welcome.
Pastures remain poor to fair and dugouts are at 30 to 50% of capacity, with dry dugouts common near Ste. Rose and Rorketon. With the exception of The Pas where yields are average, hay yields across the region are very low and feed supplies are very tight. Pastures have turned brown and little to no re-growth has occurred over the past few weeks. Supplementation on pastures is required in most areas. More precipitation is necessary to replenish soil moisture reserves.