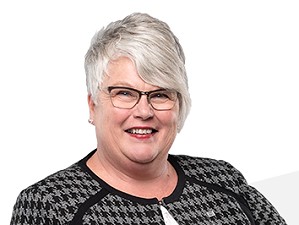 Federated Coop Limited News Release |
Sharon Alford of Swan River, Man., has been elected President and Chair of the Board of Federated Co-operatives Limited (FCL).
Alford was elected Aug. 12, 2019 after serving as interim President/Chair since July 15, 2019. She is the first woman to serve in this position in our 91-year history.
"It is an honour to be elected as President and Chair of the Board of FCL and my pleasure to serve," Alford said. "I look forward to working with the great people in our system to promote and sustain the CRS for the future."
The Co-operative Retailing System (CRS) is made up of FCL and more than 170 local co-operatives, working together to provide products and services that help build, feed and fuel Western Canadian communities.
FCL's local co-operative members are divided into 15 districts, which each elect a member of FCL's Board of Directors. The President/Chair is a Board member elected by the 15 members of the Board to lead the democratic decision-making structure that guides FCL's activities and affairs.