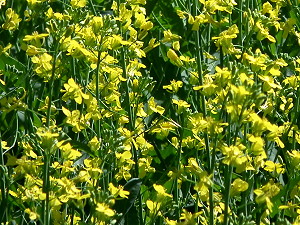 Northwest Region Crop Report Prepared by: Manitoba Agriculture
July 16, 2019 |
Northwest Region
Generally good growing conditions in the Northwest region last week and crops progressing normally. Daytime temperatures hovered around 30°C and there were widespread rain showers. Rainfall amounts ranged from ~38 mm in the Dauphin/Ste. Rose/Laurier area; Roblin 4 to 13 mm; Swan River and Grandview about 19 mm; and Birch River/The Pas approximately 25 to 28 mm. Minitonas area received the most rainfall last week at 48 mm. These showers have helped crops to advance however; some of the drier parts of the region still need additional moisture. Soil moisture conditions around Dauphin/Ste. Rose area continue to be short; Swan River soil moisture is 90% adequate, soils in The Pas and Roblin are 100% adequate.
There was good progress in crop growth in the region although where it has been dry, fields are looking patchy and thin. Most fields look clean with good weed control. The canola crop continues to advance and with the exception of some later seeded fields that are still bolting, almost 100% of fields are flowering. Spring cereals are heading with 40% of the crop in the milky dough stage. Field peas in the region are 25 to 40% podded. Soybeans are flowering in the Roblin area and are in fair condition; around Swan River they are still in the vegetative stage. The lentil crop is 100% flowering, 20% of the flax crop is flowering. Silage corn around Roblin is in good to poor condition.
Diamondback moth larvae are present in some fields and producers are encouraged to scout their fields for these pests before making spray decisions. Fungicide applications are occurring as conditions and staging allows. Variable weather is causing fluctuations to the fusarium head blight (FHB) risk map for the region and producers are encouraged to check the Manitoba Agriculture FHB risk map when making spray decisions.
Generally, crops in the Northwest region are in average condition, although where drier, the crop is below average. Some hay has been harvested with grass hay yields 30 to 50% of normal and newer stands with more alfalfa yielding 50 to 60% of normal. Producers are waiting for forecasted unstable weather to settle prior to cutting more hay. Spotty rain showers are welcome since primarily hot and dry conditions are starting to affect growth in both annual crops and in perennial forage fields.
Pastures grazed early in the spring are starting to regrow with the limited additional moisture. Dugouts remain low. Pastures and wild hay are very poor north of Dauphin and in the Rorketon, Alonsa, Crane River and Ethelbert areas. Most shallow dugouts and creeks are dry. There is minimal regrowth on earlier grazed pastures in these areas. Grasshoppers are also a major concern.