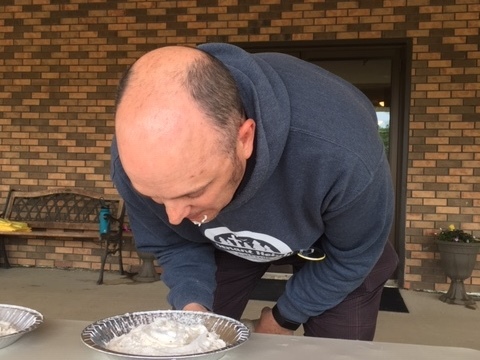 Pictured above: Scott Beehler just before the pie in the face challenge.
Submitted by: Jocelyn Beehler |
The Community Bible Fellowship Christian School (CBFCS) Amazing Race held Saturday June 15, 2019 was a great event. There were 16 challenges that teams completed. Challenges tackled many aspects of intellect and physical ability.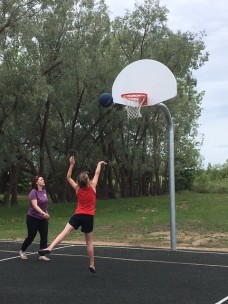 Above Left: Jayden Thiessen and Ben Burick doing the wheat sort challenge. Above Riger: Ainslie Ellingson and her mom Cheryl wrapping up her 20 free-throw shots after her team was U-turned and had to complete an additional challenge.
From an Easter egg hunt to to a hike at Thunderhill to find a diamond at the slide, to word puzzles, a swim challenge, an eating challenge, a lock and key challenge…it kept teams hoping from 10:00-4:00.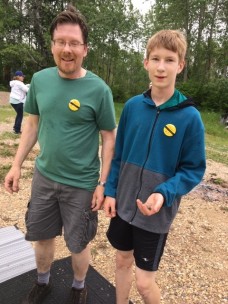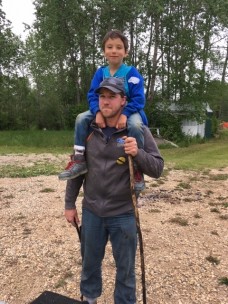 Above left: Noah and David Gnida coming back from the hike at Thunderhill with their diamond from the diamond slide. Above right: Jonathon and Jaxon Flemming finsishing their hike.
Teams came and went from CBFCS all day. Those in the lead fluctuated all day. U-turns, detours and fast forward components added to the fun and the challenge of the day. No one team dominated the day.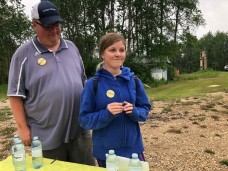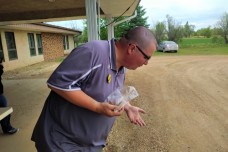 Above left: Madison Gade and Uncle Dustin Brown sporting their competitive side. Above right: Dustin Brown (From Winkler, MB) trying to choke down what we assumed to be "fish of some kind" in an eating challenge. He was a fantastic sport about it.

The organizing committee was so proud of all teams for their sportsmanship and good attitude. The planning committee is excited to make this an annual event.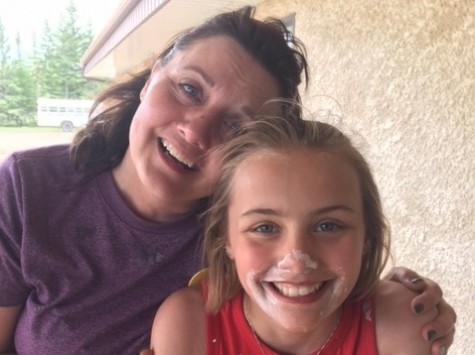 Above: Cheryl and Ainsli Ellingson hearing the words "Congratulations…you have completed the race" after finishing the last pie in the face challenge.
Congratulations to our top 6 teams. Scott and Isabelle Beehler took first place and $1,000 by only 2 minutes with teams close behind.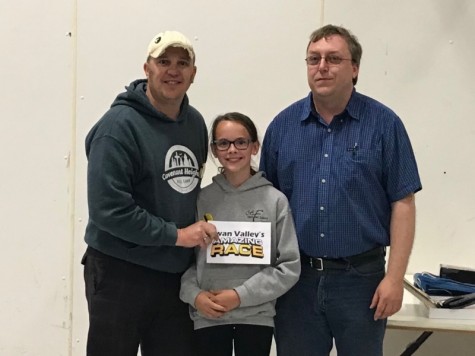 Above: Scott and Isabelle Beehler receiving the winning check of $1000 from the CBFCS Parent Advisory Council Chairperson Bill Gade.
Following hot on their heels were Madison Gade and Dustin Brown, Cheryl and Ainsli Ellingson, Noah and David Gnida, Jayden Thiessen and Ben Burick, and Jonathan Flemming and his 5 year old son Jaxon.