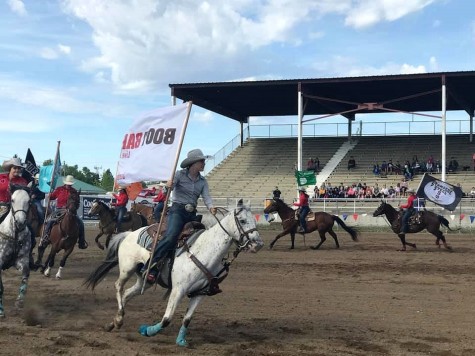 Submitted by: Crystal Nepinak |
What a fun-filled, action-packed weekend! Rough Country Kubota has definitely gained favor with Jace, who was Peter's right hand man, next to Luke, in ground maintenance throughout the weekend.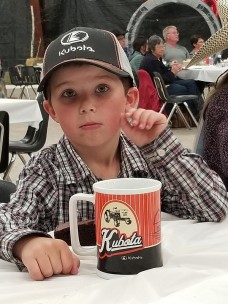 Jace continuously tells his dad from North Dakota that he needs a Kubota!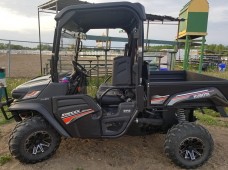 As organizers, going back & forth from rodeo arena to the curling rink in the Kubota side by side was greatly appreciated!
Friday morning saw over 170 students from valley schools come to cheer on the High School Rodeo participants. The opportunity is made possible with a sponsorship from the Swan Valley Credit Union in conjunction with the Swan River Kinsmen Club, whereby all students enjoyed a hot dog, drink and bag of chips for lunch.
We had MHSRA members and community helpers provide instructions & opportunities to learn & practice goat tying & roping skills. Pictured here we have Gary Clapham & granddaughter Natasha Chartrand observing a young fellow trying his hand with roping.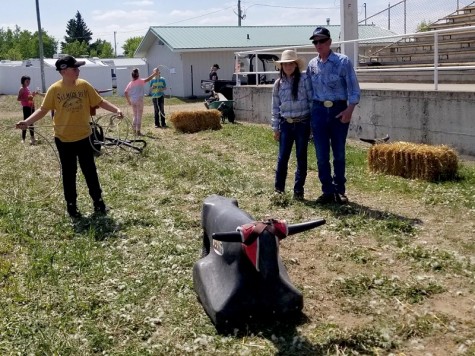 A junior member also does his best to assist this young spectator to try her hand with the rope.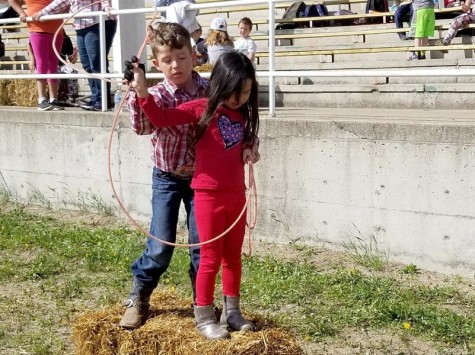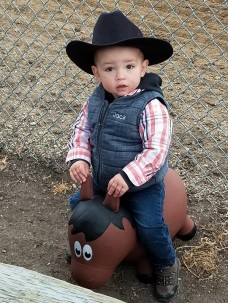 Friday's weather was by far the warmest we've had since starting in 2015.
Prior to the start of the rodeo, we were blessed to have a very cute, young cowboy demonstrate bronc riding to show the rodeo members how it's done!
Jack went on to cheer on his favorite cowgirl Jenna McKay!
Friday following the rodeo, the students attended a pizza party from the Pizza Place.
The evening was wound up with a Scavenger hunt throughout the Town of Swan River. Students checked out the Swan, packed groceries, held some interviews about rodeo, walked a dog, and two-stepped with a SV resident, to name a few. Everyone had a good time & appreciated the Root Beer at A & W and ice cream at Dairy Queen.
On Saturday, June 8th the Community Pancake Breakfast served by the Swan River Lions was a delicious start to the morning.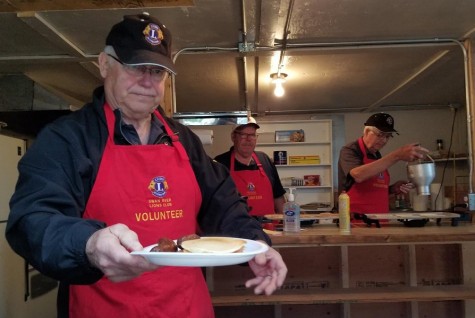 The cool breezy weather put a damper on the attendance. Those who braved the cool weather were not disappointed. Swan Valley High School Rodeo definitely appreciates the Swan River Lions coming out to help out by providing breakfast on site.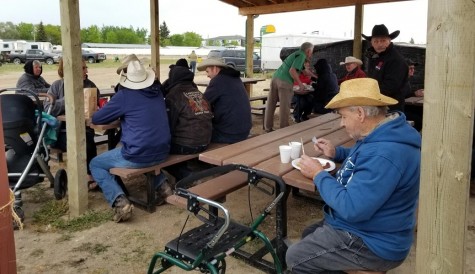 Saturday, the rodeo was followed by the Cowboy Graduation/Prom & Dance. There were five of six Grade 12 graduates in attendance.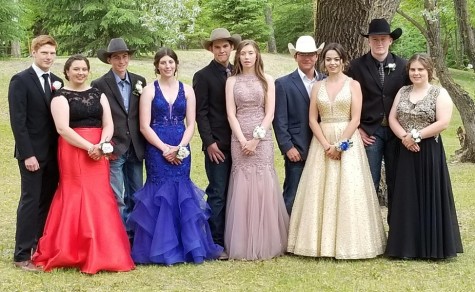 We were all treated to a steak supper with all the fixings prepared by the Relay for Life – The Cindy Lou's Crew.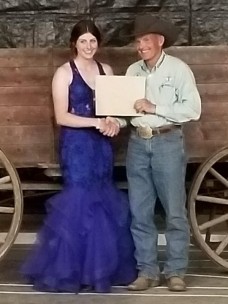 This amazing team of ladies also set up the luncheon that accompanied the Year End awards ceremony.
Scholarships in excess of $15,000 were handed out later in the evening.
The presentations were followed by a dance for graduates and members.
Tables were cleared & reset for the Finals & Year end awards ceremony on Sunday following the rodeo.
During intermission on Sunday, we held a fun adult fundraiser with approximately $900 raised for the awards & scholarship funds.
The fundraiser was a team of four, including one lady, to see who could milk a wild cow and get milk the fastest. The parents had lots of fun while raising a good chunk of change.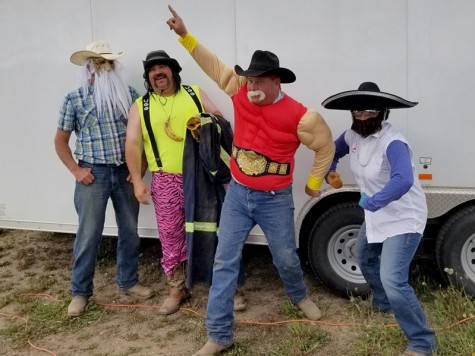 The prizes up for grabs at the awards ceremony were phenomenal with a saddle given to each of the All Around Sr & Jr Cowboy & Cowgirl.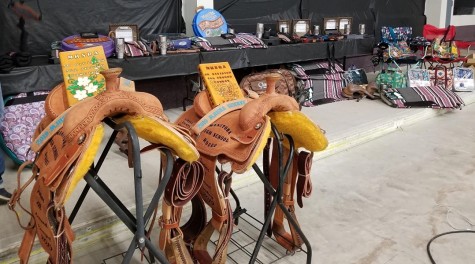 On Sunday, June 9th the Cowboy Church service was an early start at 8:30, brought to us by Terry & Donna Baker from the Fellowship of Christian Cowboys. Terry shared some scriptures & stories, while Donna shared in song. There were only a few who braved the early morning service, while others listened from their trailers and camp sites.
Being that we are so few in numbers on the SV HS Rodeo committee, we have sought other community help, which in turn provides fundraising opportunities for them. In doing so, as we seek support from the community, we find ourselves able to give back to organizations such as the Swan River Lions Club, Swan River Kinsmen and the Special Olympic athletes through fundraising opportunities. It's a win-win for all involved. The Special Olympic group were a tremendous help with set up and take down.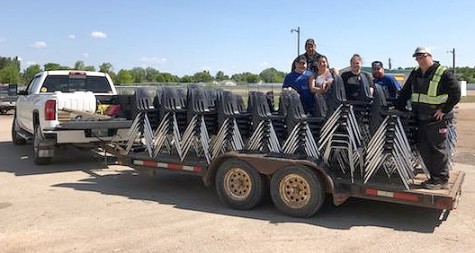 Those attending our High School Rodeo here in Swan River are amazed with the support of the local business community! For us, as organizers, the support makes it so much easier to put on a quality event that people want to keep coming back to. We were approached by many to seek another year extension to our bid to host the Finals again next year. They really enjoy the facility and the effort put in to make a memorable event! Thank you Swan Valley. We are proud to call the valley home and you should be too!
On behalf of SVHS Rodeo executive: myself, Della McKay & Peter Bresky, along with Bobbi Jo, Ashley, & Mel, we would like to thank everyone who had a part in helping us host another extremely successful High School Finals Rodeo. Every bit of help is appreciated. Please check out our Facebook page Swan Valley High School Rodeo for more great photos.