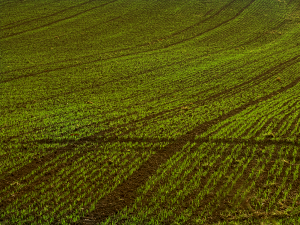 Northwest Region
Northwest Region Crop Report Prepared by: Manitoba Agriculture
June 11, 2019 |
Northwest Region
Variable weather continued in the Northwest region last week. Temperatures reached above 30°C throughout much of the region but overnight lows dipped close to zero. Around Roblin, Swan River and The Pas, frost visible Monday morning, but early reports are that crop damage appears to be minimal. Hail fell near Roblin mid week, although there did not appear to be serious damage. Rainfall amounts varied; The Pas received 30 mm, Dauphin/Ste. Rose 11 to 25 mm; around Swan River area 3 to 10 mm and Roblin area 12 mm. These rainfall events were welcome where soil moisture is lacking however, other areas are still looking for rain
as hot weather and wind continues to worsen soil moisture conditions.
Soil moisture conditions around Roblin are 30% adequate, 60% short, 10% very short; Swan River area is rated as 10% very short, 50% short and 40% adequate; soil moisture at The Pas is 90% adequate, 10% surplus. Overall seeding progress throughout the region is virtually complete for all crops with operations winding down at The Pas. The extent of frost injury from last weekend varies with some fields around Grandview reseeded due to frost damage. There was noticeable growth in the canola this week in areas that received rain; however, the dry soil conditions and hot, windy weather has resulted in patchy emergence and slow growth in many other areas. Silage corn emergence is slow and uneven due to dry seedbed conditions.
Weeds are actively growing and herbicide applications continue as crops develop and weeds become an issue. Diamondback moths are showing up in traps throughout the region with counts well over 200 around Bowsman. There are reports of reseeding and spraying canola in Swan River, and in the Parkland area as flea beetles and cutworm feeding continue. Generally, crops in the Northwest region are rated as good but some canola fields are in very poor condition due to a combination of insect feeding, frost and delayed emergence from dry soils.
Most cattle are being moved to pasture as producers have been waiting for more optimal growth. Frost has slowed hay growth, although alfalfa growth has resumed progressing. Dugout levels still adequate despite dry weather.