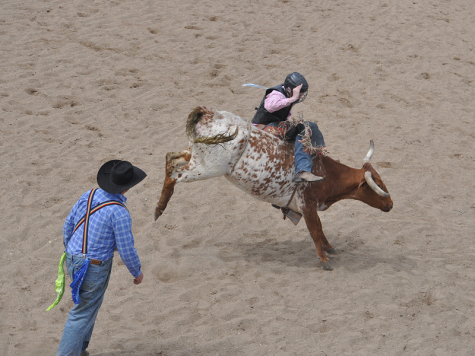 Submitted by: Crystal Nepinak |
Swan Valley High School Rodeo finally had a dry and somewhat warmer rodeo weekend compared to years past! We received much praise with regards to the facility, the grounds were great, and the food was delicious! The past weekend was definitely a jammed pack weekend. We kicked off Friday night with an MBRA Barrel Jackpot which saw Sadie Hollingshead come in with the fastest time of 17.948 on her horse High Fire Bucks. Co-organizer Della McKay also clocked in the 3D on her new horse to bring in some prize money!
Saturday we started bright and early with a pancake breakfast hosted by the Swan River Lions Club. They had a steady stream of hungry folks. Rodeo started with the flags of rodeo at 9 am and the singing of the national anthem sang by Bailey Langevin. Competitors this year were from all over Manitoba, Saskatchewan & even North Dakota. We had 58 competitors this year!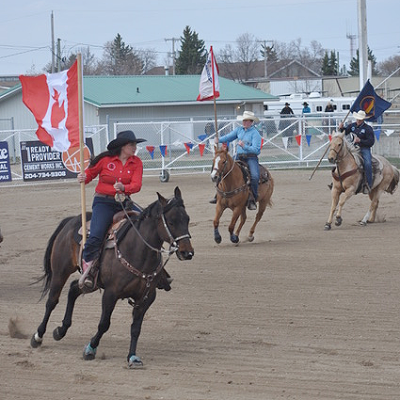 Valley locals include: Jenna McKay who has been competing as a member of the MB High School Rodeo Association since the fall of 2014, Sierra Urban, Kaleigh Currie & Dax Mullin all became members in the fall of 2018. Mackenzie Currie and Jillian Hrycyk competed again this year as "hometowners". Natasha Chartrand also decided to try it out as a "hometowner".
There were six beautiful buckles up for grabs to the Most Sportsmanlike cowboys & cowgirls, one for Pickup Man's Choice and one for All Around High Point over the weekend. The winners were as follows:
All around Cowgirl
– Jacy Boyes sponsored by Rough Country Kubota
Most Sportsmanlike Jr. Cowboy
– Coy Gervin sponsored by McKay Tractors & Metals
Most Sportsmanlike Jr. Cowgirl
– Kirby Gray sponsored by McKay Real Estate & Auction Co.
Most Sportsmanlike Sr. Cowboy
– Robby Stewart sponsored by Mountainside Unloading Ltd.
Most Sportsmanlike Sr. Cowgirl
– Kally Bodin sponsored by Rick Bresky Trucking
Pickup Man's Choice
– Drydan Griffith sponsored by Thompson Ventures Ltd.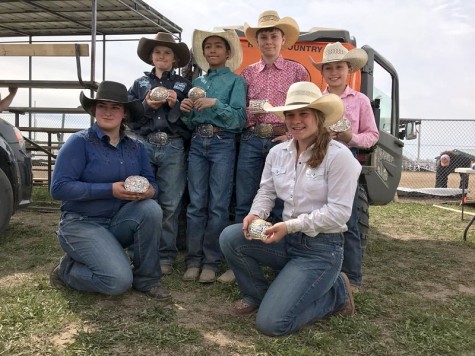 Little Buckaroos, for Kindergarten to Gr 5 followed the High School Rodeo events.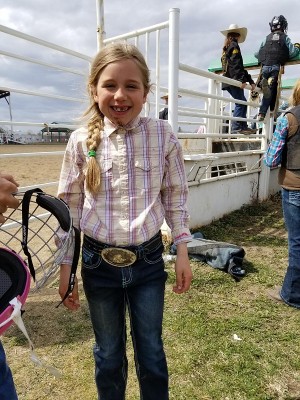 There were 28 youngsters registered, 7 of which were from the valley.
Locals included Danica Hyrcyk, Bailey Langevin, Dominic & Allysia Campbell and the 3 Walmsley sisters: Autumn, Paisley & Mesa.
Paisley was still smiling – dirt & all, after her calf ride!
Danica Hyryck was totally pumped to defend her calf riding title against the cowboys.
I've been told it could be a toss up between Danica & Autumn.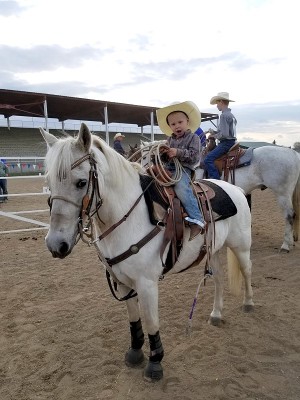 Following the Little Buckaroos, interested members had the opportunity to participate in roping clinics, goat tying clinic and a chute dogging clinic.
The clinics were well attended and the members learned a lot & were able to practice alongside the clinicians who were giving feedback to better their skills.
It was a very full day on Saturday to say the least. We received many comments and thanks for providing the clinic opportunity here.
The volunteers are what make the rodeo run smoothly. In Swan River, we are fortunate to have volunteers from the Ag Society who are also there before and during the rodeo to help where needed. Luke Bresky has been a tremendous help over the past few years. This year, he worked nonstop with the groundskeeping and in the stock pens from Friday night through until Sunday night, well past the end of the rodeo. We were also fortunate to team up with the Special Olympics athletes to help with set up and clean up. They assisted with the heavy, behind the scenes things like setting up picnic tables, garbage and recycle bins. A big thank you goes out to all who participated in some way!
We hope to see the community come out and support these young athletes when we do it all over again at the Provincial High School Finals Rodeo June 7th – 9th. These are the future participants for rodeos such as the Northwest Round Up!
For results details, please check out the MHSRA website.