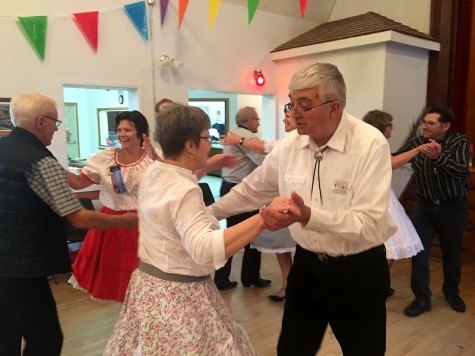 Submitted by: Lloyd Gilchrist |
More than seven squares of enthusiastic square dancers descended on the Durban Hall on Saturday, April 27 to help the Swan Valley Hoedowners celebrate the conclusion of the square dance season.
Caller Linda Gilchrist kept the dancers hopping to the lively music and interesting square dance moves.
The afternoon festivities continued until late afternoon when a delicious supper of pulled pork, buns, salads and tasty desserts was served to all the dancers by the square dance club.
Again, after supper, the dancing festivities carried on for another two hours. Out-of-valley dancers attended from Regina, Moose Jaw, Yorkton, Endeavour, Hamiota, Brookdale, Virden, The Pas.
Dancing for the Hoedowners resumes the last Wednesday in September. If interested in learning to square dance and joining this fun activity, call Linda Gilchrist at 204-734-3950.