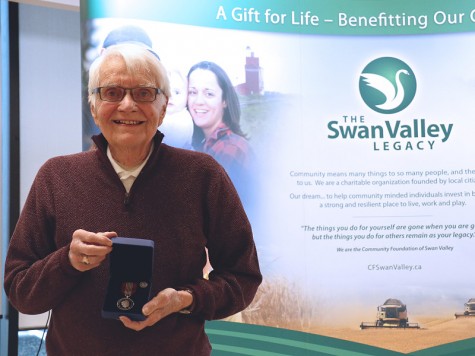 Pictured Above: Community Foundation founder Douglas Hinchliffe, recipient of the Sovereign's Medal for Volunteers
Submitted by: Community Foundation of Swan Valley |
The Community Foundation of Swan Valley welcomed 17 recipients to its Spring Granting Session, held at SVRSS on April 11, 2019. 14 Community Grants and 3 Youth in Philanthropy Grants, for a total of $20,300 was donated to local community groups so they could purchase equipment, expand programming, offer services and renovate important community based infrastructure.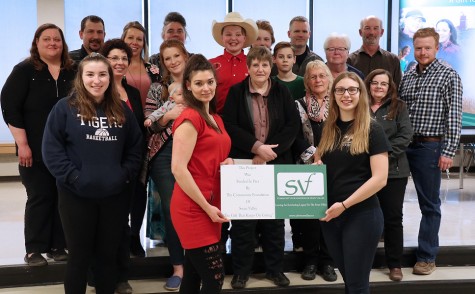 In addition we had the privilege of bestowing a great honor on local Community Foundation founder Douglas Hinchliffe, recipient of the Sovereign's Medal for Volunteers. Presenting this honor was Community Foundation of Swan Valley Chairman, Lorne Henkleman: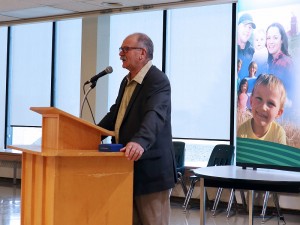 Introduction Speech by Lorne Henkleman
If you were to go to the Governor General of Canada's official website, you will find a description of the Sovereign's Medal for Volunteers described and I quote…
"Passion, dedication and a commitment to community are the driving forces behind the volunteers who receive the Sovereign's Medal for Volunteers. The medal recognizes the exceptional volunteer achievements of Canadians from across the country in a wide range of fields and pays tribute to the dedication and commitment of volunteers. They embody the caring country we aspire to build."
Tonight we have a very special individual we want to recognize with this official Canadian honour, the Sovereign`s Medal for Volunteers. We are pleased to present this medal to Douglas Hinchliffe. (Doug was asked to travel to Ottawa to receive this medal from Her Excellency the Right Honourable Julie Payette). As a recipient of this medal, Douglas Hinchliffe is being recognized for his work in establishing the Community Foundation of Swan Valley. In around 2003/2004 he took his idea for a foundation to like-minded friends Beggie Palsson, the late Rex Leach and the late Con Robinson, and tonight we are here for the beginning of our 15th granting year. We are proud to say that we now have over $2.8 million in assets that will continue to generate funds to support organizations and groups throughout the Swan Valley area.
In addition to his work with the foundation, Douglas was also recognized for his 49 years as treasurer for the local Air Cadet Squadron, for serving as president of both the Rotary and Men's Curling clubs, and for his work on the executive of the Royal Canadian Legion where for over a decade he served as the Sergeant-Arms.
As a Level 3 curling coach, he helped establish a Junior Curling Club, coached teams and for years devoted his weekends to holding curling clinics throughout the valley and further afield. Always community minded, Doug chose to return to this valley to raise his family and has been dedicated to helping make it a good place to live and work.
CFSV gives special thanks to the Hinchliffe family for allowing us to be part of this special evening and to our Spring Granting Recipients we look forward to seeing your projects come to fruition.
For more information on becoming a donor, or applying for future grants, please visit the CFSV website at www.cfswanvalley.ca or contact Donna Martin, Executive Director at 204-734-9129.