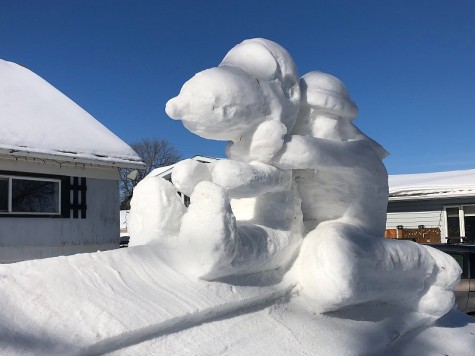 ValleyBiz Story | Submitted Photos
Local artist Derryl May, has been bringing the art of snow sculptures to Swan River for the past 4 years. His sculptures have included a polar bear, an owl, a hand making the peace sign and, his latest installment, Snoopy on a doghouse. While May's is most accustomed to sculpting in clay, he got the thought to give snow a try several years ago. "I started piling up snow and started to consider what I could create with it." said May. "Snow is a really nice medium to work with because you can carve it so easily – and it is in such abundance around here." he said.
This year, May's interest and talent in snow sculpture led to an opportunity to work alongside sculptors from around the world. During a trip to Winnipeg earlier this year, May struck up a conversation with a snow sculptor at The Forks which led to an introduction to Christel Lanthier, the organizer of the International Snow Sculpture Symposium at the Festival du Voyageur. "About a month later she gave me a shout and asked me if I wanted to come down to the Festival to help out, so I obliged." said May.
May got the call on Saturday and headed down to the Festival on Tuesday. He had just two days to transform a 12′ wide by 24′ long and 8′ tall block of snow with two embedded tubes into an interesting and interactive piece of art.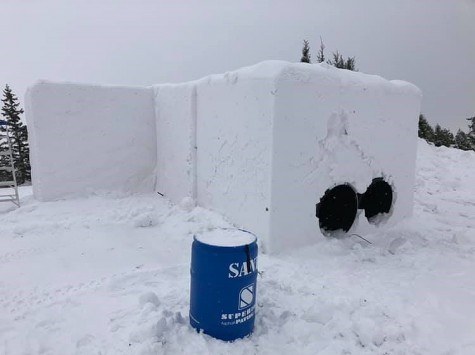 May carved throughout the day and into the night on Wednesday and Thursday, to coax his vision from the frozen block.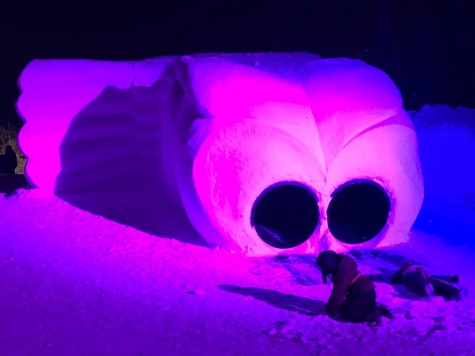 A wide-eyed owl emerged to be enjoyed by 1,700 children visiting on Friday February 15, 2019 as part of a school tour program.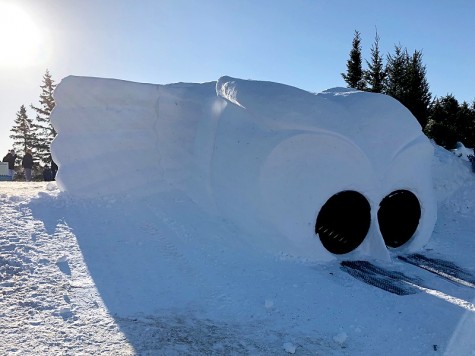 Once the slide sculpture was complete, May was presented with yet another amazing invitation. "On Friday I had the privilege of being invited to carve with an American team who were involved in the symposium." said May. He welcomed the opportunity to carve with the team, learning about the team dynamic as well as some of tools used and made by the other carvers.
"It is both amazing at humbling to be sculpting with such talented artists." said May. "The Festival has done an amazing job in creating such a warm welcoming community … I can't wait to go back next year!"