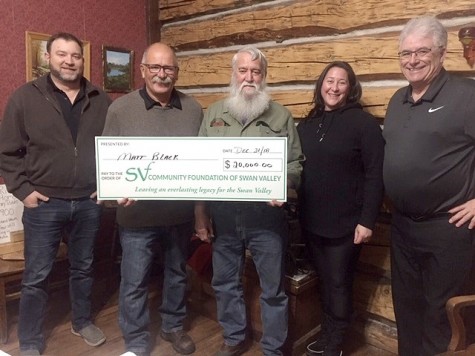 Pictured above (L to R): Directors Ryan Immerkar, Lorne Henkelman, Donor-Matt Black, Directors Lynda Parsons and Lew Taylor. (Submitted)
Submitted by: Community Foundation of Swan Valley |
The Community Foundation of Swan Valley (CFSV) recently received a donation of $20,000 from Matt Black. The endowment will create a new Education Fund with the CFSV. Matt currently offers a bursary with the Swan Valley Regional Secondary School and wishes to have the CFSV take over management of the fund. The memorial bursary is in honor of his late wife Monica and adds more opportunities for students to advance their education at the post-secondary level.
The CFSV would like to say thank you to Matt for his contribution and encourages others to consider a donation to the CFSV in celebration of birthdays, anniversaries and other special occasions, as a lasting tribute in memory of a loved one, or as part of their will.
Each endowment with the Community Foundation provides a never-ending source of income to the community. The original gift remains untouched and the interest earned is used to support local charities, scholarships and bursaries.
For more information on the Community Foundation call 204-734-9129 or email cfswanvalley@gmail.com.