Sydney Gilroy, Chloe Formo and Jasmine Rose attempt to box out the Dauphin players for the rebound.
Submitted by: Lise Fraser |
The Swan Valley JV Girls headed to Brandon this past weekend, February 15-16, 2019.
The first opponent of the tournament was the Tigers' zone rival, Dauphin Clippers. This game was of utmost importance because the winner would be the top seed at the Provincial Qualifying Tournament held last week in February. Both teams played an aggressive press, hoping to create turnovers. At the end of the first quarter, Dauphin had a lead of 21-13 over the Tigers. The Tigers changed their defensive pressure in the 2nd quarter and held Dauphin to only 6 points while scoring 18 points to take a lead of 31-27 at the half. In the third quarter the two teams exchanged baskets back and forth, taking advantage of scoring opportunities from outside and driving to the hoop. Going into the fourth quarter the Tigers had a lead of 44-39. The Tigers kept their cool during the fourth quarter with stellar performances from Jasmine Rose, Kaitlyn Hunt, Ali Kujanpaa, Sydney Gilroy, Jada Kujanpaa and Chloe Formo. The final score of the game was 56-47. Kaitlyn Hunt scored 18 points, with 4 rebounds and 2 blocked shots. Jasmine Rose scored 14 points. Defensively the front end of Kujanpaa, Gilroy and Kujanpaa created turnovers with their man to man pressure while Hunt, Rose and Formo provided defensive rebounding which limited Dauphin's chances for scoring.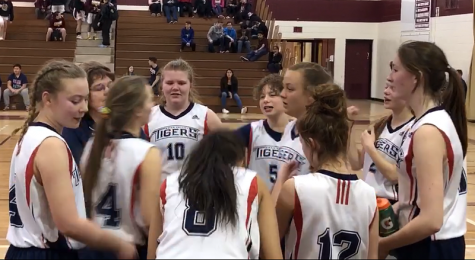 The Tigers played in the Championship side semi-finals on Saturday morning against Souris. The two teams were evenly matched and the lead traded back and forth throughout the game right down to the last second. The Tigers lost 45-43 which placed them in the 3rd place game. Jasmine Rose was the leading scorer with 11 points, followed by Chloe Formo with 10 points.
The Tigers played against Boissevain, (#1 ranked AA team). Boissevain was big and scored points quickly using a fast break. The Tigers quickly found themselves in a deficit and at one point were trailing by 22 points. The Tigers rallied and cut the lead to only 10 points but could not make up the difference. Leading scorers were Gilroy and Formo with 10 each, followed by Rose with 7 points. Jasmine Rose was selected as a tournament All-Star.
Next action for the JV Girls Basketball team is the Linden Christian Invitational on February 22-23 in Winnipeg.