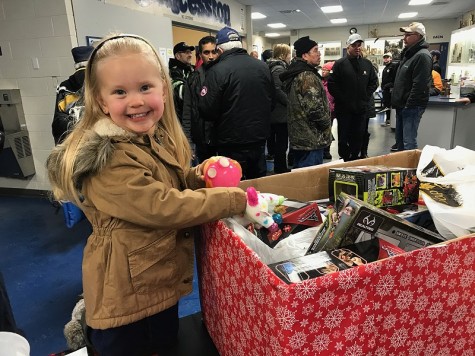 Pictured above: Donations being dropped off at the December 15, 2018 SV Stampeder's game.
Submitted by: Lorri-Ann Munro |
The Swan Valley Communities That Care Toys 4 U Toy Drive has been happening in the valley now for a few years, but this was my first year coordinating the initiative. I am overwhelmed by the generosity of our communities and how much support was given to make this event so successful.
We had just over 400 children on our list this year and every one of them will receive a gift.
The Elbert Chartrand Friendship Centre, Swan River Fire Hall, Red Apple and Work World accepted donations of behalf of SVCTC. Buffalo Junction, Chicken Chef, Hair Mechanics, Pizza Place, Quik Stop, TImerland Inn and Y Not Johny's had cash donation boxes set up at each location. The Swan River Temple Baptist Church provided a place for people to pick up their gifts a week prior to Christmas.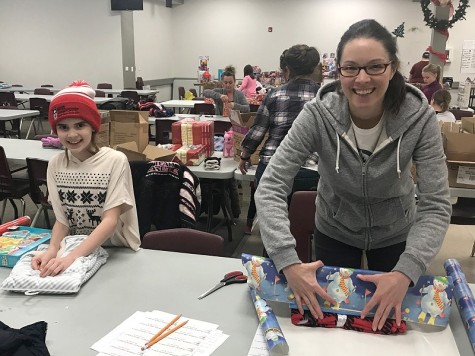 A community wrapping night took place at the Elbert Chartrand Friendship Centre which had over 30 community members coming to help, resulting in over 300 presents being wrapped in a short span.
Students and parents from CBF School, Heyes, Taylor, and ESRSS came out to wrap along with a group from Special Olympics and staff members of the ECFC. Students from Adult Education, SUCCEED, and the SVRSS assisted in picking up, sorting and wrapping the gifts.
We held three special events to promote Toys 4 U. SVCTC partnered with the Swan Valley Mutual Aid District and RCMP to host an open house at the Swan River Fire Hall. Sparky the Fire Hall Mascot was on hand along with members from the Fire Hall and RCMP to greet the children and pose for photos.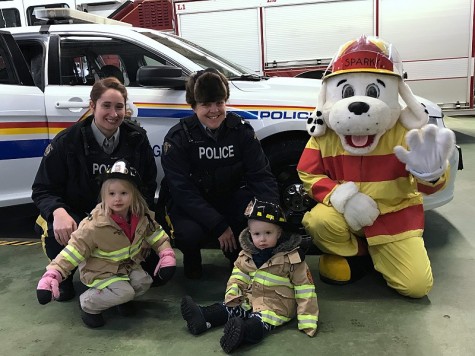 Children had the opportunity to sit in a police car and fire truck, thrilled with all the cool gadgets and after enjoy a cup of hot chocolate. Similar activities happened at the Birch River and Benito Fire Halls.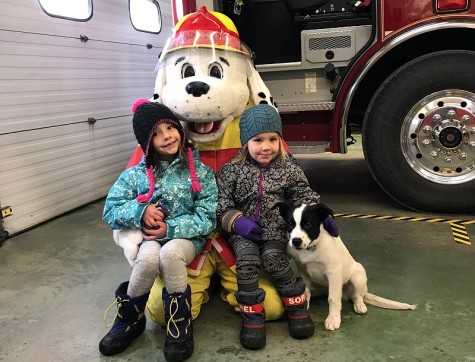 The second event took place on December 8 th at Red Apple. This day was filled with children visiting Santa Clause and enjoying a cookie or two along with a cup of hot chocolate. The Swan Valley Stampeders kindly came out to help serve up the treats. Cheryl and her staff at Red Apple did an amazing job of promoting the toy drive and we are very thankful for their ongoing support and partnership.
The last event took place at the December 15, 2018 SV Stampeder's game. The team donated an autographed jersey to be given away and every person that made a donation that evening was entered for a chance to win. The lucky winner was Sawyer Murley. This is another great partnership that we are very grateful for.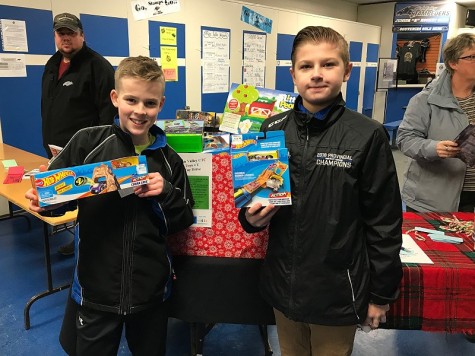 I want to commend the Swan Valley for their ongoing support and amazing generosity when it comes to helping others. We are lucky to live in an area that have people that are willing to come together to support a cause which will bring smiles to many children this Christmas season.