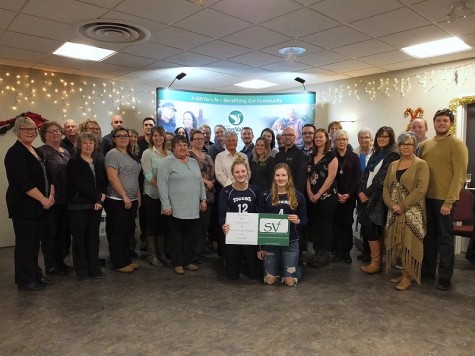 Submitted Story |
The Community Foundation of Swan Valley (CFSV) held their AGM and Fall Granting Night on December 6, 2018.
"Philanthropy has been defined as the desire to promote the welfare of others, expressed especially as the donation of money to good causes." said CFSV Board Chair Lorne Henkelman.
The Fall Grant recipients certainly represented many good causes throughout the Swan Valley. As each group came forward to receive their grant, they shared how the grant money would be used for their organization.
Since its inception in 2005, just over $2.3 million has been contributed to the CFSV, providing a never-ending source of income for the community. The original donations remain untouched and the interest earned is used to support local charities. In 2018, the CFSV distributed well over $89,000 in grants, scholarships and bursaries. The total amount distributed since its inception is over $573,000.
2018 Fall General Grant Recipients
$1,500 Minitonas 4-H Beef Club – Livestock panel purchase
$1,000 Swan Valley Cheetahs Gymnastics Club – Gymnastics equipment
$5,000 Benito Skate Park Committee – Benito Skate Park
$7,500 Bowsman Early Leaning Centre – Centre construction
$2,000 Swan River Senior Citizen Centre – Roof insulation upgrade
$2,000 Swan River Minor Hockey Association – Rink divider project
$1,500 Town of Swan River Rec.Dept. – Aquatic Centre Toddler Slide
$1,000 Swan River Golf & Country Club – Kitchen air conditioning
$2,775 RCL Br #39 – Refurbish Swan River War Memorial Cenotaph
$ 600 SVRSS – Varsity volleyball team uniforms
$1,000 Ecole Swan River South School – Multi-sport jerseys
$2,500 Swan Valley Band Booster Club Inc. – Band instruments
$4,000 Taylor School Parent Advisory Council – Playground enhancement
$2,000 Benito Legion Ladies Auxiliary – Legion Hall window replacement
$3,000 Wellman Lake United Church Camp – Water system upgrade
$1,500 Communities in Bloom – Desert planters, park and Main Street
$3,500 SVSD-APPLE Schools – APPLE Schools Program
$1,020 North-West Regional Library – Patron chairs
$4,500 Benito Child Care Centre – Cabinets for Centre expansion
$3,500 CMHA – Swan Valley Branch-Establish Therapeutic Centre
Donor Advised & Designated Grant Recipients
$ 358 Taylor School Playground Project
$ 463 Swan Valley Air Cadets
$ 449 Swan Valley Animal Protection League
$ 411 Lloyd & Betty Bertram Swan Valley Fine Arts Festival
$ 533 Swan Valley Historical Museum
$10,565 Swan Valley Historical Museum
$ 520 Swan River Figure Skating Club
$ 877 Chemo Dept. Hospital
$ 314 Swan Valley Historical Museum
$ 345 Youth Sport Fishing Education
$ 482 Tent Town Garden Club
$ 200 Swan Valley Food Bank
$ 200 North-West Regional Library
$ 379 Bowsman Cemetery
$ 294 Swan Valley Crisis Centre
$ 590 Taylor School Playground Project
$ 200 Swan River Aquatic Centre Toddler Slide Project
$ 353 Ecole School Jersey Project
$ 407 Youth Sport Fishing Education
The CFSV thanks the donors who make these grants possible and encourages others to consider a donation to the CFSV in celebration of birthdays, anniversaries and other special occasions, as a lasting tribute in memory of a loved one, or as part of your will.