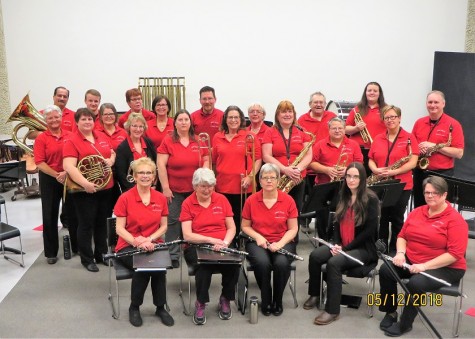 Pictured above: Sitting L-R: Bev Leach, Linda Mcrae, Donna Jorundson, Christina Danyluk, Karen Kosolowsky Standing 1st row: Brenda Hunt, Julie Kooistra, Glenda Horochuk, Jayne Leadbeater, Lorraine Malcolm, Kim Kosokowky, Leigh Hunt Standing 2nd : Cheryl Dahl, Stephanie Jersak, Phyl Friesen, Maureen Bowles, David Gnida, Cindy Bobick, Rick Houle, Jessica Kovacik, Brian Dormer Standing with Tuba: Rob Nesbitt, Brad Slepicka
Submitted by: Jayne Leadbeater |
Swan Valley Community Band performed their 25th Christmas Concert on Wednesday, December 5, 2018 at the SVRSS Multipurpose Room.
| | |
| --- | --- |
| Rita Houle has been our Door Greeter for many years. | ACCESS TV's Kevin Penner routinely tapes our Concerts. |
Led by Band Director, Julie Kooistra, 23 members enthusiastically played Christmas Music in 10 varied compositions to a crowd of over 70 people.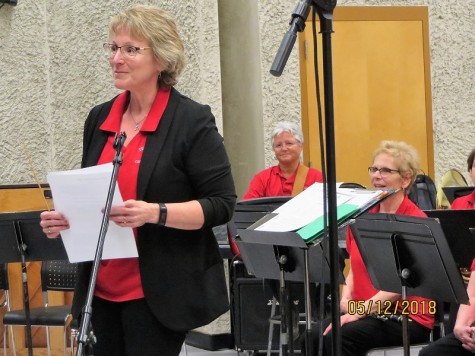 Pictured above: Our Founder & Director since 1994, Julie Kooistra
Members Brenda Hunt, debuting her directing skills, and Dr. Cheryl Dahl lent a hand to conducting duties allowing Julie to participate in the instrumentation.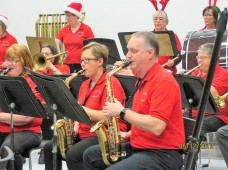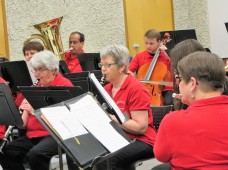 EVERY YEAR, the Band membership varies from 20 to 35, but the Percussion Section always has fun wearing Christmas attire, or whatever the theme. One year they were "The Pink Panther and Inspector Cluseau"!

Rounding out our performance, Tarnished Brass (Brass Quartet plus bass guitar) and Cellist, Brad Slepicka, entertained the audience. Dr. Dahl led a Christmas Sing-a-long with accompaniment by Brenda Hunt.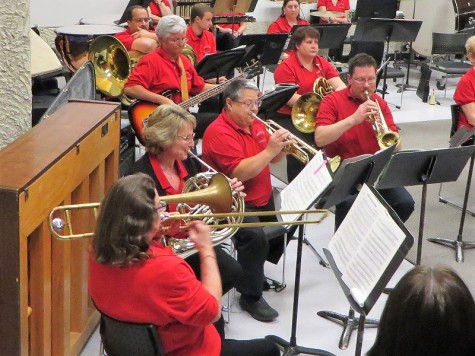 TARNISHED BRASS: Trombone-Jayne Leadbeater, French Horn-Julie Kooistra, Trumpet-Kim Kosokowsky, Trumpet and leader-David Gnida, Bass Guitar-Cheryl Dahl
| | |
| --- | --- |
| Cellist, Brad Slepicka, performed 2 memorable pieces. A real treat to hear something new — a cello! Brad, a Swan Valley man recently graduated from Regina University and is also the new Band Director at Benito School. | Cheryl Dahl leads everyone in a Christmas Sing-a-Long. Dr. Dahl has been Choir Director at Temple Baptist Church for many years. |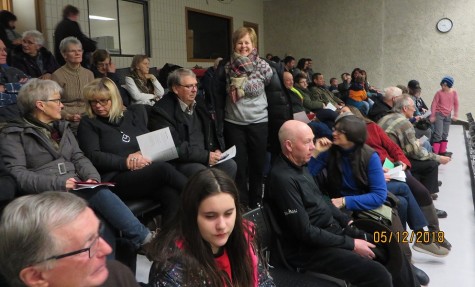 A CONCERT WOULDN'T BE A CONCERT without an Audience. Some have been attending as long as we have had Concerts!
Our group comprises many walks of life and ages, with a goal to musicianship with an instrument, enjoyment, friendship and fun. New Members of ANY calibre are always WELCOME! Call 734-5139 or 734-4771 for information.