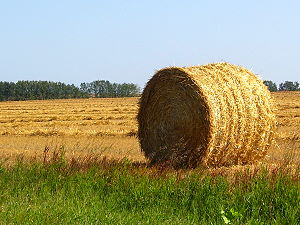 Northwest Region Crop Report Prepared by: Manitoba Agriculture
October 29, 2018 |
Northwest Region
Good fall weather continued which allowed producers to progress with harvest this past week throughout the region. The 2018 harvest is basically complete with the exception of some later seeded or reseeded canola fields.
The good weather has allowed for headway on the soybean harvest and it is also virtually complete. Much of the fall field work was completed this past week in preparation for spring. Some anhydrous ammonia has been applied as harvest and field conditions allow. Weeds and volunteers are slow growing and minimal fall weed control has taken place at this point.
The red spring wheat harvest is generally complete in the region at 98% with the remainder being those later seeded fields. The average yield for hard red spring wheat is 65 to 85 bu/ac with 80% of the crop grading #1, and the remainder grading #2 or lower.
The canola harvest is nearly complete with approximately 98% of the acres combined. Those acres remaining are on fields that were seeded later in the spring or fields that had been reseeded. Canola yields averaged 50 to 60 bu/ac. The quality of canola harvested is standard for the region with 95% of the crop grading #1 and the balance #2. A lot of the canola harvested was high moisture and required extra aeration and drying. Quality of some of the later seeded canola is lower due to green seed issues.
Field pea harvest operations are complete with yields averaging 50 to 70 bu/ac and grading #2 in the Swan River and Roblin areas.
Soybeans are 99% complete with yields averaging 30 to 50 bu/ac; 95% of the crop is grading #2. Some flax remains to be harvested.
The 2018 growing season was variable in the Northwest Region with regards to precipitation. Spring soil moisture conditions were dry for Roblin, Swan River and around Dauphin with crops stressed from lack of moisture. At The Pas, excess moisture was a challenge. Part way through the season, periodic heavy downpours through the north and western parts of the region replenished or increased water levels. Areas in the eastern part of the region remained dry until September. There were two hail storms through the region in August with damage ranging from minimal to 100%. As the season progressed, crops in the region recovered to some extent, but by September conditions were cooling with the first frost on Sept 5th. Cool weather continued with early snow causing challenges and extending harvest operations well into late October. Currently soil moisture conditions rated as average.
Hot, dry conditions caused some pod abortion during flowering on canola, however yields and quality did not seem to be affected a significant amount. The dry weather conditions helped to reduce disease pressure although Fusarium head blight showed up in some wheat fields. Levels of sclerotinia and alternaria in canola were low. There were some issues in soybeans with root rot and sclerotinia. Producers were able to limit the impact of disease and insect pressure due to timely and appropriate application of fungicides and insecticides to susceptible crops at the most beneficial stage. The variable growing conditions affected forage production as well.
Excess moisture conditions in The Pas, affected both yield and quality, while drier conditions experienced around Ste. Rose and Rorketon resulted in forage yields 1/2 to 1/3 of normal and low dugout water levels. Producers with reduced winter feed supplies have been sourcing alternative feeds. Cool, wet conditions in the fall throughout the region, made it challenging to put up dry feed including greenfeed, second cut hay and straw. Better weather at end of October gave producers a narrow window to continue harvesting feed although some, was put up at higher than ideal moisture. Pasture growth stopped earlier this year, due to cold temperatures in September, coupled with low moisture conditions in some parts of the region. As a result, producers were supplementing on pasture or moving cattle to extended grazing fields.