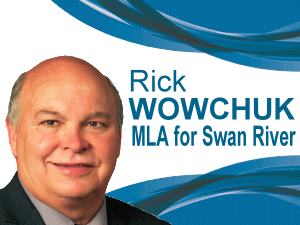 Submitted by: Swan River Constituency Office of MLA Rick Wowchuk |
Round Table Discussion
November 9, 2018
2:00pm to 4:00pm
Westwood Inn, Swan River
Choices facing Manitobans as we prepare budget 2019.
The meeting will begin with an overview of the province's fiscal climate and how we spend Manitobans' tax dollars.
We will also discuss the significant choices we have to make as we build a sustainable health system, fund education, investments in the Made-in-Manitoba Climate and Green Plan and determine where we will go as we fix our finances and rebuild the economy.
To learn more abut Manitoba's pre-budget consultation, visit www.ManitobansMakingChoices.ca.
I look forward to seeing you at the Westwood Inn in Swan River, MB on November 9, 2018 from 2:00pm to 4:00pm.