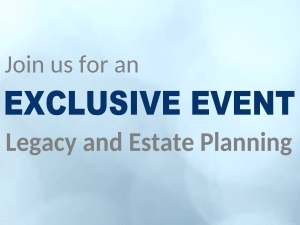 Submitted by:
RBC
Legacy & Estate Planning
Thurs. October 18, 2018
2:00 p.m. – 3:00 p.m.
Super 8 Hotel
Meeting Room
115 Kelsey Trail
Swan River, MB
RSVP by October 16
You are invited to an exclusive event brought to you by people that are here to provide you an outlook on what matters to you.
Much is involved in legacy and estate planning, including financial, taxation and legal aspects. We understand the importance of being prepared for the unexpected, and helping you and your family is our privilege. Let us provide you with the best advice.
Please join experts from RBC Royal Bank, Dominion Securities and Oakes Law Office for an afternoon presentation and enjoy this special event.
RSVP by October 16th to:
Elyse Busch at elyse.busch@rbc.com, 204-731-1793
Aleksandra (Ola) Luczkanin-Hunter at aleksandra.luczkaninhunter@rbc.com , 204-982-2744 by October 16th
We hope you can join us for this event!