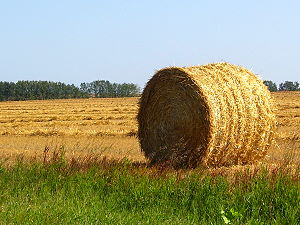 Northwest Region Crop Report Prepared by: Manitoba Agriculture
October 9, 2018 |
Northwest Region
Harvest was stalled this week in many parts of the Northwest Region due to rain and snow. Daytime temperatures were down into the single digits with nighttime temperatures dropping well below zero throughout the entire region. Rain and snow accumulations were highest on the south and east sides of the region with Roblin area getting around 17mm and around McCreary receiving the most precipitation at 35mm. Precipitation amounts were minimal in the northern part of the region, including Swan River and The Pas, allowing harvest to progress. The crop in the northwest region is estimated at 80% harvested.
Spring wheat crop is mostly harvested throughout the region with the exception of some later seeded fields that remain standing. Yields are good ranging from 65 to 85 bu/ac. Fieldwork is being completed as conditions allow; weed growth has been slow.
The wet weather has been a challenge for producers trying to combine their canola crop. Any canola harvested this past week came off tough or damp and will need to be dried down for storage. There are reports of damage to standing canola fields in the Dauphin area due to heavy snowfall. Around Swan River the canola harvest is about 50 to 55% complete with yields of 45 to 60 bu/ac; harvest of canola in the Roblin area is at 40% complete with yields of 50 bu/ac; the canola harvest is well underway at The Pas.
The lentil and pea harvests are complete with yields of 45 to 50 bu/ac and 50 to 70 bu/ac respectively.
Harvest of soybeans started in the Northwest Region with reported yields of 35 bu/ac.
Continued precipitation of rain and snow has resulted in little dry forage/straw being put up with some swaths being down for over a month. The majority of cows are being fed on pasture to allow for browsing of available standing forage thus minimizing the dry matter required from already low hay stores. Producers with reduced forage production continue to source alternative feeds and make winter feeding plans. Corn silage harvest is wrapping up in the region.