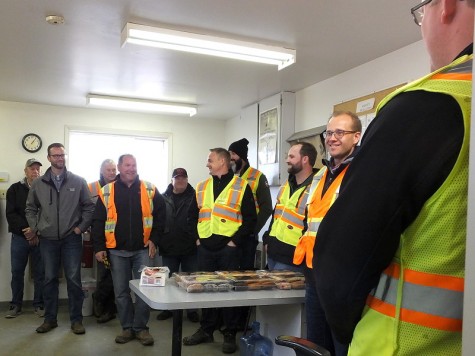 On October 3, 2018, Swan Valley Co-Op hosted an open house at their new anhydrous ammonia (NH3) fertilizer storage facility at its Benito Ag Site.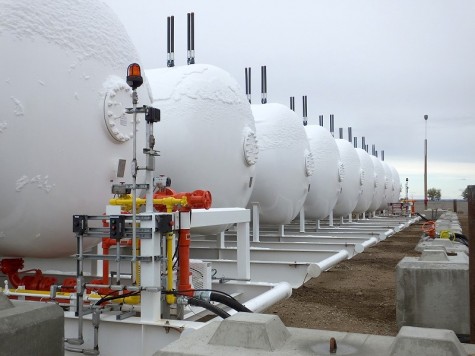 The facility stores approximately 800 metric tons of NH3 and features 9 vessels, each holding approximately 43,000 gallons. There are 2 filling stations for wagons or field delivery tanks on the east side with the west side accommodating bulk deliveries. There are compressors on two of the vessels to help push vapour to unload trucks into the tank.
The system features up to date safety features and technology to protect both the workers and equipment.
Above, Maxfield representativs explain how breakaway protection automatically shuts down the system in the event a hose is not properly disconnected before pulling away. In addition to the safety features, the design provides for minimal down time to complete repairs an bring the system back on line. Emergency shut down can be initiated a each station for filling/unloading or remotely from the electrical shack and office. A handheld remote also automatically shuts down the system if it fails to receive timely responses from the operator.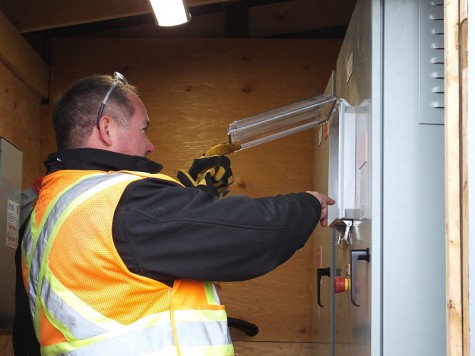 A computerized module analyzes and reports on every sensor in the system and monitors the levels of the product in the two working vessels. There is a level transmitter on the two working vessels, telling the system how much fluid is in the two working vessels that are pumping. As the product goes down, the compressor is signaled to pump product from feed vessel to working vessel. Other features include over pressure protection and high level kick off to prevent filling the vessels over 85%.
"We would like to thank our Board of Directors for their vision for the future and helping us move forward in serving our customers the best way we can." said Colin Peters, General Manager of Swan Valley Co-op. "It is a one of a kind facility and we are very proud of it."