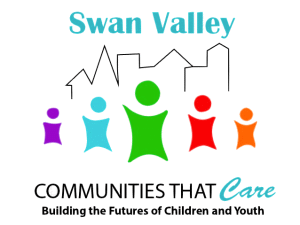 Guiding Good Choices
Parenting Workshop
THURSDAYS:
October 18th, 25th
November 1st, 8th, 22nd
Dinner:
5:30 to 6:00 p.m.
Sessions:
6:00 to 8:00 p.m.

(Children age 9-14 attend with their parent(s) on November 1st)
Location: Ecole Swan River South School
1015 2nd Street South, Swan River
FREE Childcare, Supper, Materials
Are you raising a child age 9-14?
Guiding Good Choices is for you!
GGC is a FREE interactive parent workshop consisting of
5 two-hour sessions that address:
• The influence of parents in helping their kids avoid drugs and other unhealthy choices
• Setting guidelines, monitoring, and consequences
• Teaching kids refusal skills
• Positive and effective family communication
• Building bonds by involving your kids in the family
And … because we know how busy parents are, we provide dinner and childcare at each session at no cost!
Additional Details: Workshop materials, dinner and child care are provided on site at no cost to participants courtesy of Swan Valley Communities That Care.
We encourage participants to attend all sessions!
To Register or For More Information:
Shannon Cameron, Programs Coordinator
Swan Valley Communities That Care
Email: svctcprograms@gmail.com Phone: (204) 731-4577
Lorri-Ann Munro, Community Coordinator
Swan Valley Communities That Care Email: swanvalleyctc@gmail.com Phone: (204) 734-8504