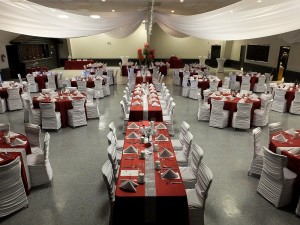 Submitted by:
Community Foundation
of Swan Valley
The Community Foundation of Swan Valley (CFSV) is set once again to dazzle guests at their annual Cultural Gala.

Now in its 4th year, the Gala has become known for its stunning decorations, fantastic food, superb service and spectacular entertainment.
The Cultural Gala is a great opportunity to experience an elegant evening with family and friends while enjoying fine food, local cultural entertainment and highlights of the Foundation's work. Proceeds from the $100 per plate event go to the CFSV and charitable receipts will be issued for the cost of the ticket (less expenses for the evening). The event takes place at the Veterans Community Hall on November 9, 2018 from 6 pm to 10 pm. The event sold out last year, so get your tickets early.
Since its inception in 2005, the CFSV has reached over $2.4 million in endowment funds, providing a never-ending source of income for the community. The original donations remain untouched and the interest earned is used to support local charities. By the end of 2018 the CFSV will have granted over $570,000 to local projects, bursaries and scholarships throughout the Swan Valley.
Each new donation makes more money available to fund local projects in future years, ensuring the Swan Valley will continue to be a strong and resilient place to live, work and play. With many giving options available including undesignated funds, designated and donor advised funds, scholarships and bursaries – there has never been a better time to give.
Endow Manitoba 24 Hour Giving Challenge on November 17, 2018 allows you to stretch your donation to the CFSV's Undesignated Fund. For every $5 given, The Winnipeg Foundation will donate an additional $1 (maximum $2,000 per foundation) and the Province of Manitoba will donate an additional $1 (maximum $2,000 per foundation).
Join us for an evening that supports the important work of the CFSV and celebrates the legacy of the individuals and organizations whose generous donations will benefit the Valley forever.
For more information or tickets contact:
Phone: 204-734-9129, or
Email: cfswanvalley@gmail.com