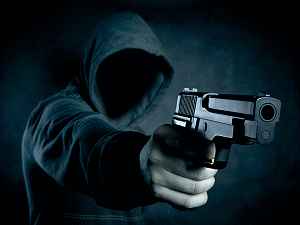 ValleyBiz Story |
On August 20, 2018 CJ104 posted a statement on Facebook claiming they received an anonymous threat indicating they "had one week to pack up and leave Swan River or else their buildings would be looted and burned."

Bill Gade, owner operator of CJ104 Radio, has a long history of enraging communities by attacking community groups, organizations and individuals (including seniors, youth, local businesses, first responders, doctors, churches, non-profit organizations and volunteers) with his disrespectful comments and/or false statements.
Click here for a list of articles outlining some of Gade's past behavior.
CJ104 staff had been doing patrols and stakeouts in the early morning hours after having wires cut to their building that "knocked Swan River's CJ104 off the air for hours" August 7, 2018.
On August 24, 2018 the station uttered threats of deadly force. "We have made the decision that any patrols or overnight occupancy efforts will include at least one member who is licensed to carry firearms," said a post on their Facebook page. With clear premeditation the post warned, "…please consider this statement fair warning. We consider your death to be a direct consequence of your choice to be a criminal."
Many people posted their concerns regarding the radio station's disturbing statement and some were encouraged to report the threats of violence to the RCMP.
A Facebook post from 'The Royal Canadian Mounted Police in Manitoba' read, "Please be aware that Swan River RCMP became aware of this post last night and immediately contacted the person responsible to explain that promoting this type of armed vigilante activity is not acceptable. Further, he was advised that anyone engaging in such an activity will be stopped by the RCMP as it is a clear risk to public safety. We continue to monitor and engage in discussion with the person who made the post."