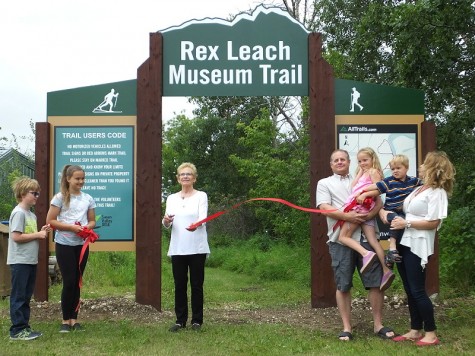 ValleyBiz Story |
On July 24, 2018 a dedication ceremony for the newly named Rex Leach Museum trail was held at the Swan Valley Historical Museum.
Dr. Andy Maxwell provided some background on the trail and explained that Rex Leach was instrumental in expanding the cross country ski trail on the south side of the Museum Grounds for the 1994 Parkland Regional Winter Games. Special recognition was given to Don Thompson and Tom Norman who, along with Rex, maintained and groomed the trail for many years.
The trail at the museum was renamed the Rex Leach Museum Trail in remembrance of the role Rex played in building the trail.
"I can't add anything to what has been said, except how proud and pleased Rex would have been to have see this happen." said Bev Leach. "You were right when you say that he loved doing it. It was fun – it was fun for everyone." she added before extending her thanks on behalf of the family.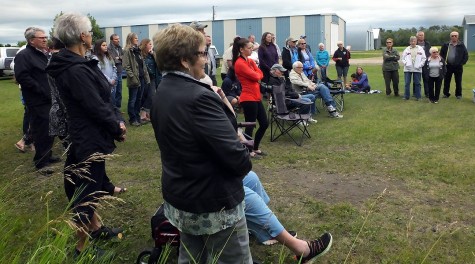 Signage for the Rex Leach Museum Trail was funded through a local trail mapping project. In November 2017, Swan Valley RISE (RISE) was awarded a Partner 4 Growth Grant for a $24,600 trail mapping project with $12,200 of the total cost funded by the provincial grant and $12,400 shared between RISE and Swan Valley Sport Fishing Enhancement (SVSFE). Trails mapped during the project are now available on the alltrails.com website or through the AllTrails phone app.