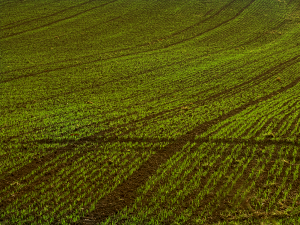 Northwest Region Crop Report Prepared by: Manitoba Agriculture
June 18, 2018 |
Northwest Region
Generally, good growing conditions through most of the region and crops are advancing nicely. Limited precipitation this week in many parts of the region, although Swan River received 4 to 10 mm of rain, southeast of Roblin received 20 mm, and The Pas received 15 to 20 mm. Soil moisture conditions are variable with most of the region's soil moisture rated as adequate however areas around Ste. Rose are dry and soils are wet around The Pas and parts of Roblin.
Seeding through most of the region is complete with the exception of The Pas where seeding is still wrapping up due to wet conditions. Spring wheat is in the seedling/tillering stage. Canola is emerged with 80% in the seedling stage and 20% in the rosette stage. Soybeans and field peas are emerged with 75% of the soybeans and 100% of the peas in the vegetative stage. Some wheat and pea fields in the Roblin area are starting to yellow due to excess soil moisture. Crop condition is generally the same throughout the region with 80% of crops evaluated as good.
Windy conditions through the middle of the week were a challenge for pesticide applications and field operations caused ruts in wet fields.
There are reports of flea beetle activity in later seeded canola in Swan River and The Pas. Diamondback and bertha armyworm trap counts remain low although there were reports of diamondback activity in one area northwest of Bowsman.
With dry conditions remaining in the eastern side of the region, adequate rainfall is needed soon to replenish pastures and continue hay growth. The Rorketon region is one of the more severely affected areas. Dugouts are currently adequate areas but rain is required to refill supplies. Where sufficient rainfall has occurred, pasture conditions are good. Producers targeting high quality hay have begun haying operations. Projected first cut hay yields will be below average to average depending on age of stand, fertility program and moisture conditions.