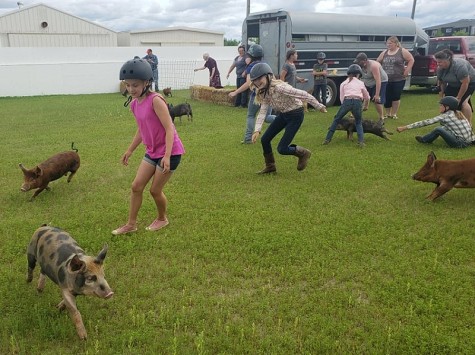 Submitted by: Susan Ross | On Saturday June 16, 2018 local 4H members participated in the Valleys North 4H Showcase held at the Swan Valley Ag Society fairgrounds.
Projects from 3 multipurpose clubs as well as one beef club were displayed in the home crafts building. There was also a 4H horse show on site. Six of the projects on display were given and award of excellence and will be displayed at this years Northwest Round-up and Exhibition.
Members were able to participate in different activities including crafts, needle in the haystack game and a pig scramble.
They day also included a smokie on a bun BBQ. Valleys North would like to thank the judges, Beth Black, Bernice Bohnhardt and Lynn Wenzel. We also sincerely thank our sponsors: Flaman Sales & Service, Pattison Agriculture Ltd, Swan Valley Credit Union Ltd. Giant Tiger, Extra Foods, Swan Valley Consumers Co-op Ltd and Spruce Products.