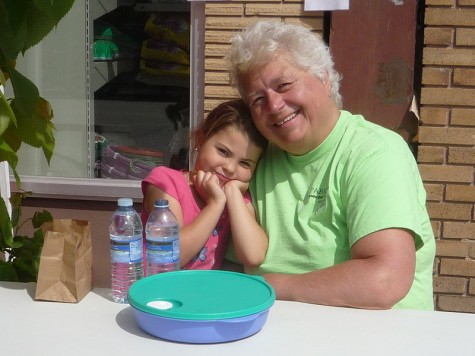 Pictured above: Special Olympics Parkland Region's youngest volunteer, 4 year-old Kaylee Miles with volunteer Doreen Miles ready for customers.
Submitted by Shirley Todosichuk | What great support from the Swan Valley community at the 4th Annual Special Olympics Fundraiser BBQ at Swan Valley Home Hardware on June 13th. Over 500 BBQ lunches were sold pulling in a net of $1900 for Special Olympics programing in the Parkland Region.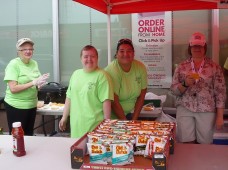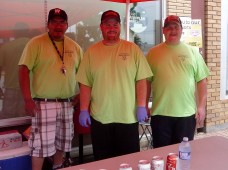 Volunteers and passionate Special Olympics athletes were prepared to welcome customers.
A special Thank You to the Swan Valley Lions Club and Bowsman Lions Club for use of the big BBQ and for grilling up the burgers. We appreciate your ongoing support!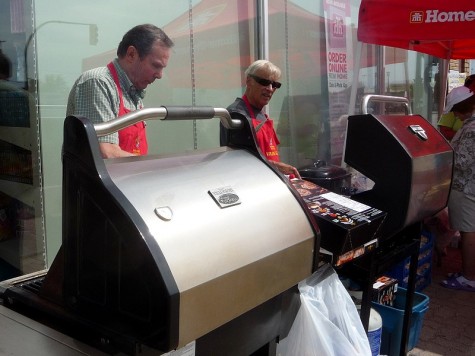 Swan River Lions Club Members Lloyd Barabash and Wayne Markle grilled up the burgers for street traffic in front of Home Hardware.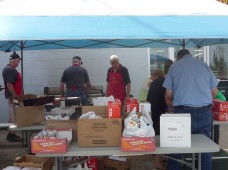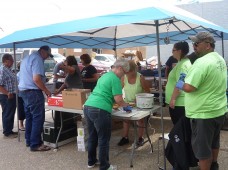 Lions Members kept up grilling the 194 preorders, while volunteers and athletes packed the orders for delivery behind Home Hardware.
We would like to thank the Swan Valley residents for coming out and supporting our athletes by purchasing or preordering burger lunches.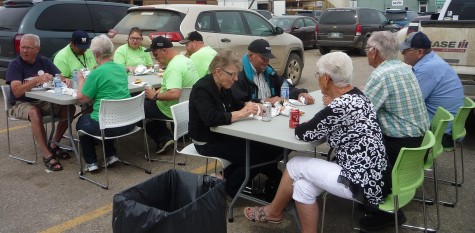 The seating area behind Home Hardware was busy with customers and volunteers enjoying their meals and visiting.
We would also like to thank the local businesses for their generous sponsorship of our event; Swan Valley Home Hardware, Swan Valley COOP, Extra Foods, Giant Tiger, Old Dutch-Robert Robertson, A&W, Bee Gee's Stationary, Star and Times, Valley Biz, Dale Boychuk, Jacquie Mydynski-Arp and Doug Chapman.
Thank you to all of our volunteers – your time and assistance is very much appreciated.
Thank you to Rachel and Andy Puchailo at Home Hardware for the tremendous support!
Special O Parkland Region is also very excited not only to be celebrating Special Olympics Manitoba Awareness Week June 11-16 but also the 50th Anniversary of the Special Olympics Movement which began in Chicago in 1968. Special Olympics Parkland Region will be lighting up the Town of Swan River statue red on July 21st to commemorate the 50th Anniversary of Special Olympics.

The Parkland Region also very proud of our 3 Team Manitoba athletes preparing to compete in the 2018 Special Olympics Canada Summer Games in Antigonish, NS. from July 31st to August 4, 2018. John Schabert of the Swan Valley Tiger Sharks Swim Club will be competing in the 25 m and 50 m front crawl and 25 m backstroke. Kendall Leslie with the Blazin' Athletics Club is competing in the 60 m and 200 m run, shot put, long jump and relay events. Ricky Zimmer of the Parkland Fireballs will be competing in the Bocce Events. They are among the top in their sport in the Province and we know they will make our region and our Province proud. If you see these athletes out and about in the community please wish them luck! Go Team Toba Go!

Special Olympics Manitoba Parkland Region currently provides training and opportunities for over 50 athletes in 3 communities – Swan River, Russell and Winnipegosis/Dauphin in 6 Sport Programs (5-Pin Bowling, Swimming, Snowshoeing, Track and Field, Floor Hockey and Bocce). They are always looking for new volunteers to help out as well as athletes interested in participating in the Special Olympics Sport Programs. If you are interested in volunteering, coaching or becoming an athlete please contact Parkland Regional Team Leader Bev Lumax at 204-525-4808 or email specialo.parkland@gmail.com.