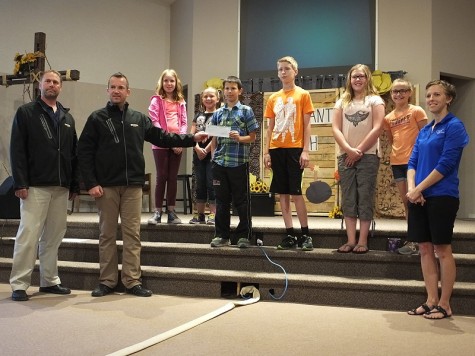 ValleyBiz Story | On June 14, 2018 Richardson Pioneer presented a cheque in the amount of $15,000 to CBF Christian School (CBFCS) for the construction of a multi-sport pad. The multi-sport pad will have a rubber surface that allows for drainage and can be used all year round for basketball, volleyball, tennis, and other activities. Richardson Pioneer will receive naming rights for the sports pad.
The construction of the multi-sport pad is intended to provide a higher quality space for sports practice, to accommodate more outdoor play options and to provide recreational space for the greater valley community.
CBFCS has raised a total of $45,000 so far from fundraising, donations and grants, including the $15,000 from Richardson Pioneer, $10,000 from the Tire Stewardship Grant, $4,175 from Prairie Mountain Health Grant and $700 from the Swan Valley Community Foundation. With installation planned for the summer/fall of 2018, the school is seeking to raise an additional $10,000 to complete the project fundraising.