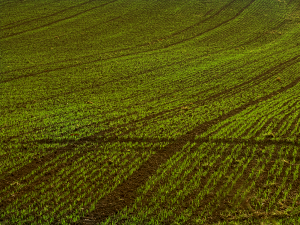 Northwest Region Crop Report Prepared by: Manitoba Agriculture
June 11, 2018 |
Drying conditions in the first part of the week with widespread rain settling in throughout most of the Northwest Region by week's end. Areas around Dauphin and Ste Rose were the exception as they received trace amounts only. Ethelbert area received 36 mm of rain, Roblin area 65 to 75 mm, Swan River 25 to 45mm and The Pas 15 mm. Soil moisture conditions are adequate for most of the region with some parts of the region seeing excess soil moisture, soil crusting from heavy downpours and ponding in low-lying areas. Overall, seeding is nearly complete however, some fields around The Pas remain wet and seeding in that area is estimated at 85% complete. Spring wheat is in the ground with 25% emerging and the remainder in the seedling/tillering stage. Canola emergence is at 25-50% with 50-75% in the seedling stage. Dry soil conditions during seeding has resulted in delayed emergence and variable canola growth stages. There are reports of slow crop growth throughout the region.
Soybeans and field peas are seeded and emerging. Herbicide applications are well underway as field conditions allow and crops reach the proper stage. There are reports of flea beetle activity in later seeded canola in Swan River and The Pas. Diamondback moth trap counts remain low; monitoring for Bertha armyworm has begun.
Forage growth is progressing quickly; alfalfa in well-managed and newer stands is up to 30 inches in height. Growth stage ranges from early bud to early flowering stage. Bromegrass is beginning to head out. Older forage stands are showing significant weed pressure. Pastures are in decent shape with the majority of cattle hauled out. In the eastern side of the region, additional timely rain will be needed to continue growth as the recent rains have only sufficed for the short term with the drier soil conditions. Dugouts are at 75 to 100% of capacity across the region.